We love the decoration as you all and here we talk about some of the most famous houses of television drawn by hand by Iñaki Alizar Lizarralde.
I do not know anyone who does not understand the feeling that is generated when you see a series from start to finish. Really when you start to see a series and you really like it, you can even feel that you are part of the story, especially when the subject you're talking about likes you or makes you feel identified with the lifestyle you are leading.
Iñaki Aliste Lizarralde he does not use any type of program to make the plans, since he makes them freehand with drawing pencil and colored pencils. Iñaki Ready as a professional in the sector, more specifically interior designer, he usually uses design software to represent the projects in his work; Autocad, for technical drawings and Chief Architect, for visualizations in 3D.
Perhaps, thanks to the daily use of these programs and their knowledge of drawing and perspectives, he has been able to create in his mind all these designs of house plans of the most famous television series and make them all by hand. A job that really brings great dedication, in addition to showing his passion for the world of design in doing so, as he says, "old-fashioned."
Each of the plans has been made on cardstock using ink markers and colored pencils. Sometimes uses Paint to add names and titles but everything else, I want to emphasize, that is drawn and colored by hand.
These are the ten most famous television houses drawn by Iñaki Aliste Lizarralde, of which I have been talking about each of them throughout these past days. Click on each of the titles to know more about them!
Un small flat with "justness", typical of a young lover of jewelry and luxury but without too many possible. The fridge practically empty, a cat and few furniture in a huge room where even great parties were celebrated.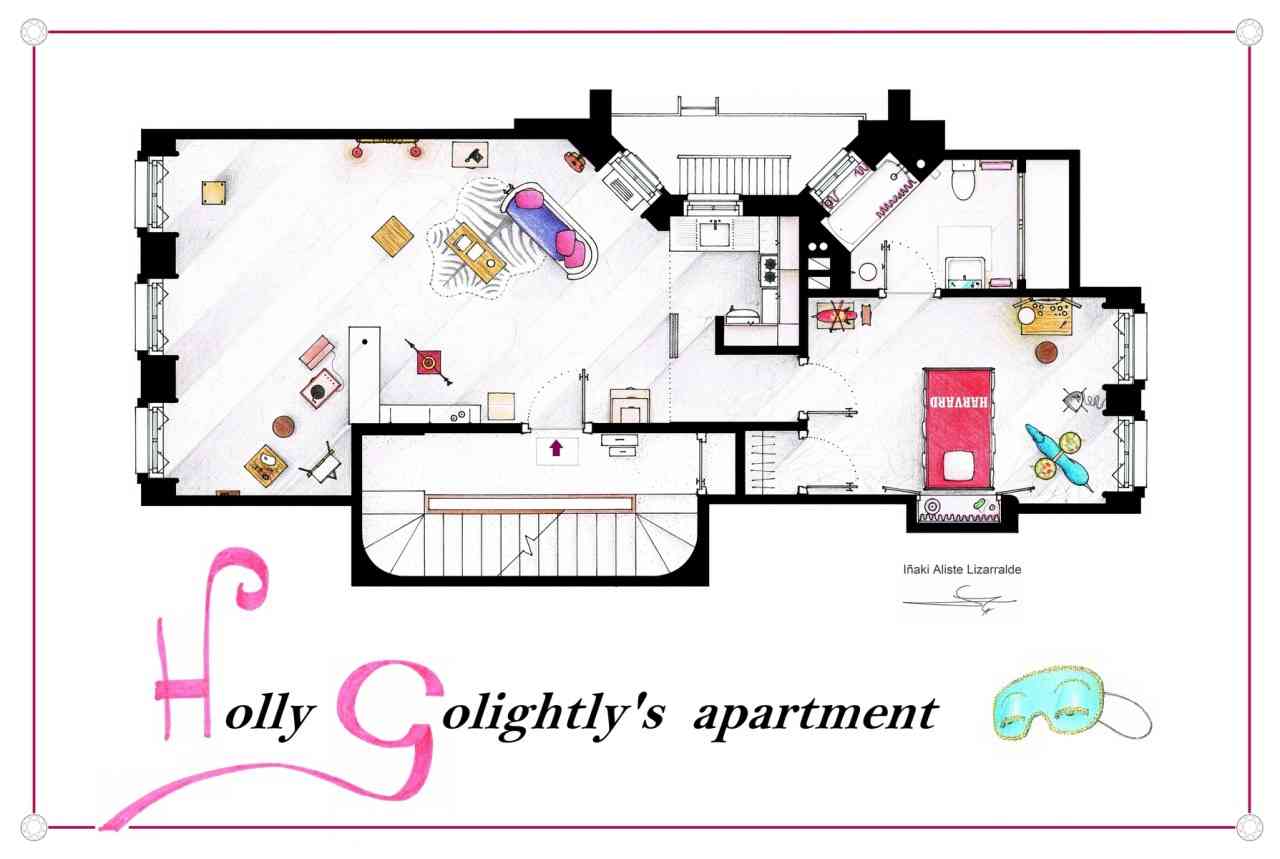 The family of the Simpsons, one of the most famous in the whole world because it has sneaked through the screens of our TVs for years and continue! It is characterized by its large number of rooms for the two children (Bart and Lisa), the baby (Maggie) and the marriage room for Homer and Marge.
On the ground floor with two rooms, a dining room, a games room, a large kitchen and the grandfather's room.
Do you remember the house that Carl took flying with balloons to the place between waterfalls that his wife and he always dreamed? Well, the plan of this magnificent house has also drawn it in every detail. Its two floors in full, with a large living room, kitchen, study and terrace on the first floor, while in the second is the room, bathroom and some more rooms, make up this nice cartoon movie house.
Beatrice Arthur, Betty White, Rue MacClanahan and Estelle Getty They lived in this magnificent villa in Miami with a large terrace and rooms for all in addition to the large living room and kitchen that they shared.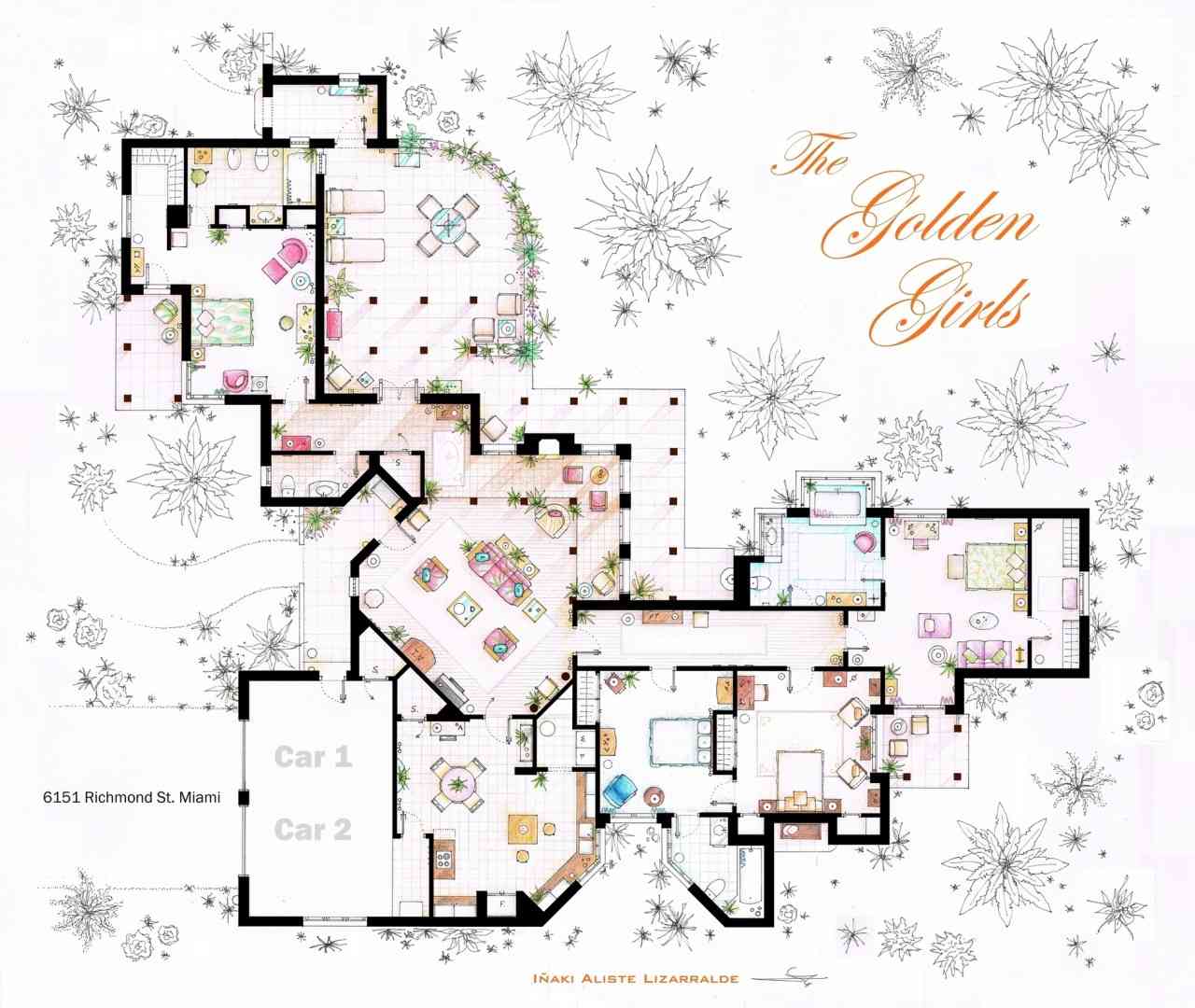 The most freakish series of the screens also has its drawn plane. This is the apartment shared by Leonard and Sheldon separated by the landing of the stairs by the small apartment of Penny, the neighbor Leonard falls in love with.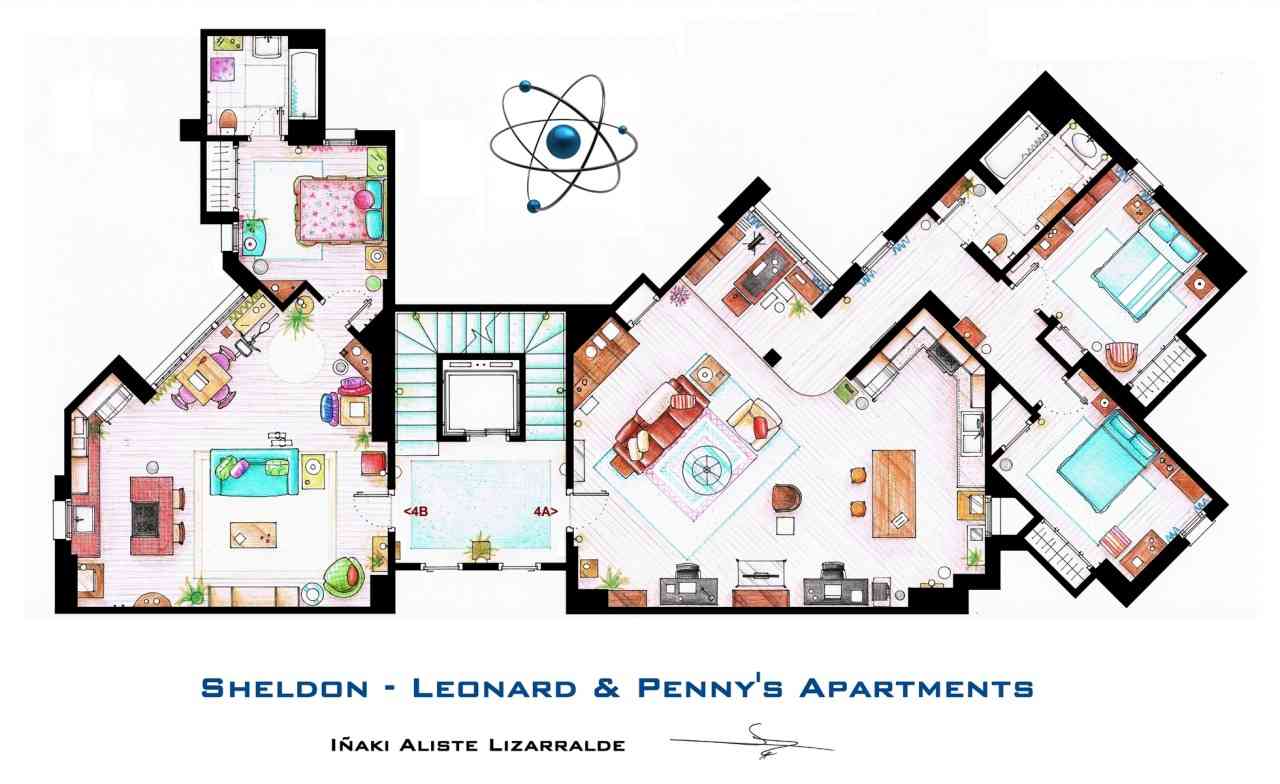 How I met your mothers It is also a series that has given much to talk about and here we have the floor of the protagonist: Ted. Two rooms, an office, a bathroom, a kitchen and a large living room with furniture placed in a very original way, do not you think?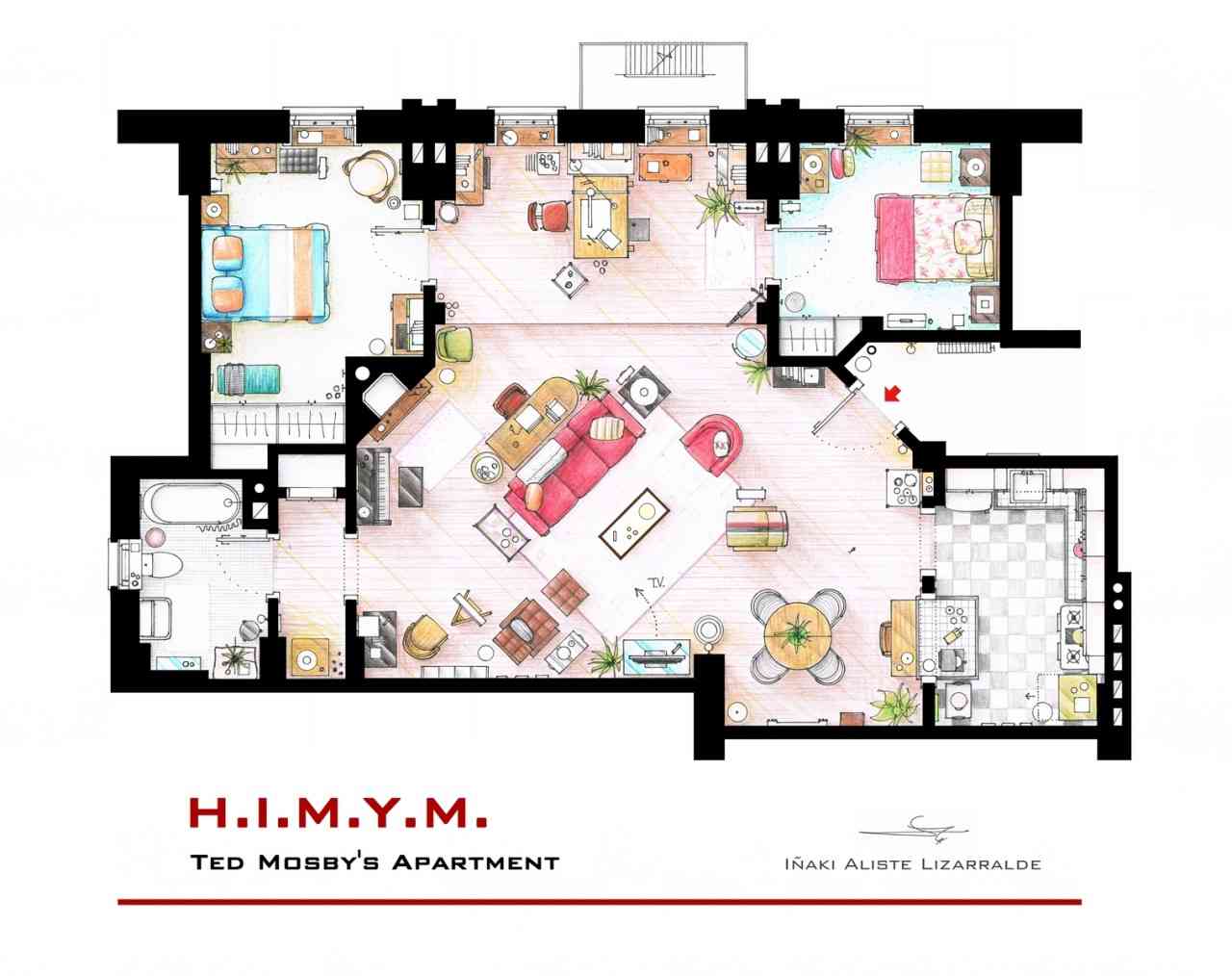 If there is an apartment that appeals to the youngest independent that is Carrie. A living room and bedroom separated by simple curtains, a small kitchen, a bathroom and a huge dressing room to organize clothes!
Coincidences of life? As in the series of The Big Bang Theory History has a lot to do with neighbors. In this case, there is an apartment "for boys" and another for "girls", which become great friends.
Another of the most famous TV houses drawn by Iñaki Alizar Lizarralde is that of Dexter, a serial killer with a very interesting apartment. Room, office, lounge, kitchen, treadmill ...
New York, exactly in the neighborhood of Upper West Side in Manhattan, is the stage where this television series develops whose protagonists share this huge and beautiful apartment with several rooms, bathrooms, terrace ...
Which of all the Famous houses of television series drawn by Iñaki Aliste Lizarralde tHave you liked it more? Which one would you like to live in?
If you are interested in having one of these beautiful plans to decorate your home, we will give you good news and this interior designer has put them on sale in Etsy so from there or your own blog you can order them.