Today I propose two ideas for recycling glass bottles. Easy and beautiful, they will help decorate any part of our home. I always propose some solution with bottles, because I think they are great items to make all kinds of ideas.
The two ideas that I propose, to recycle glass bottles, you can use to decorate at parties such as Christmas, meetings or any other type of event. Here I leave you a couple of photographs so you can see how it looks, if you do not like something you just have to change it.
The first decorative solution with bottles, is very simple. Just clean it very well, we do not want dirt in our decoration. Then just look for or buy those typical Christmas lights. The idea is to put the entire string of little lights inside the container.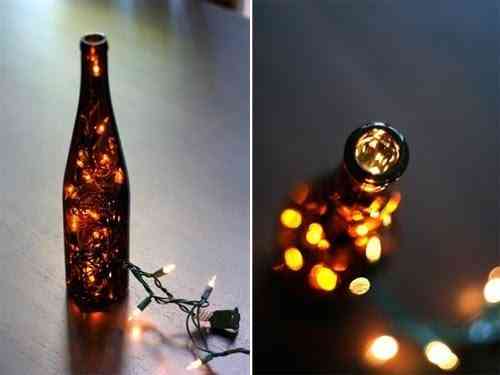 Put aside the cable, try not to see the plug and go. When you turn them on, you'll see how beautiful it looks ... I remember that these are the lights you have to use. Why? because they do not heat anything practically and you can leave them on for longer without running the risk of the bottle breaking.
The next idea also made from bottles, is to distribute a word in two containers. The word, in this case LOVE, is made from cleaner in red. The pipe cleaners can be cut and shaped as you wish, as it consists of a decorated wire. So cut and shape the letters you want to integrate.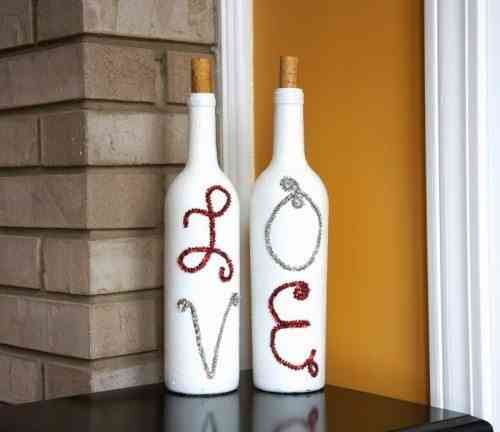 Once you have done it you just have to paste the shapes to the bottles, you can do it with specific glue for glass or with a little silicone. One idea is to color the bottle, you can do it before you paste the letters. I recommend painting them on the inside, but you can also do them on the outside ... in this case in white. What do you think?
photo: shelterness; homeandofficedecors