Do you want to spend your next vacation in an awesome hotel? Lázaro Rosa Violán, surprises with its striking hotels scattered around different places

Do you want to travel? Do you want to spend a few days in a great hotel? I propose, some delicious designs that will not leave you indifferent. Sure, you would not mind spending the holidays on them, at least to me! What do you think?
Who is Lázaro Rosa Violán?
Your signature, you can see it in many decoration projects. Especially in Spain (Madrid and Barcelona) you will see great hotels, designed by this man of Catalan success. Lázaro Rosa, has managed to find the key to success and reaps what he has worked for years.
From very small (8 years), Lazaro went to the Fine Arts classes as a pure listener. Soon, this little artist noticed the buildings. The interior of the same, called him enormously attention. This designer, takes as inspiration to create ... all his cultural baggage, which he acquired after traveling through many places.
Lázaro, has a huge studio where you can create hotel projects or other jobs as restaurants. When he gets involved in his studio ... all his designs contain a bit of different styles, this allows him to create, interpret, modify ... trends from other times and transfer them to the current one.
This artist, it does not follow some trends ... although it does not ignore them either. In the head of Lázaro, there is only the modification of the pieces and the insertion of impressive mixtures. It only makes an exception, if a client orders something particular ...
Finally and to know a little more about Lázaro Rosa Violán, I told you that his first project was in Ibiza (1990) This work, earned him a good reputation as an interior designer. In this way, in just 12 years has achieved overwhelming success.
Do you want to see some of the hotels designed by Lázaro Rosa?
I leave you with some of its most representative hotels. Each and every one of them has something special ... but, there are some details that I have fixed. Like a singer or an actor, they have their own personal stamp, Lázaro uses some similar things between works and works. For example, materials such as wood or glass are very common in your hotel projects. Finally, the color white and turquoise, almost always appear in one form or another.
Kerem room mate
Beautiful hotel, located in Istanbul (Turkey) I leave you three photographs, so you can see different parts of the interior. As you see the glass, wood and turquoise are evident.
Room mate emir suites
This hotel located in Beyoglu (Turkey) It's something simpler, but with a lot of glamor. As you can see, the lighting is achieved through large windows and mirrors.
Hotel Palais de L 'Ô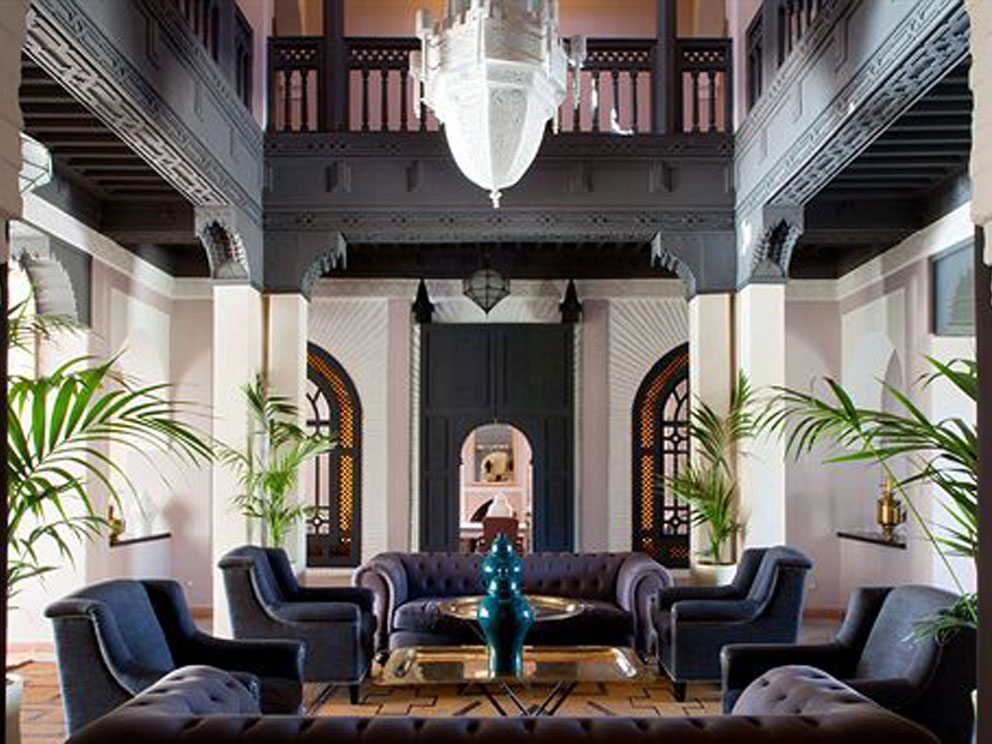 You can find this hotel in Marrakech (Morocco) An environment delight, where the plants are part of the decoration. The typical doors and windows, in addition to the columns, give a very special touch to the space.
Hotel H10 Duke of Loulé
This hotel located in Lisbon (Portugal) I love. I have not been there, but I find the photograph impressive. The ceilings are covered and the white color is illuminated, in front of a large stained-glass window and tinted colors.
Hotel H10 Villa de la Reina
In this case, I leave you in Madrid (Spain) where you will see a great hotel designed by Lázaro. The columns, they mark a charming hall and the lights with that dim lighting give a lot of atmosphere.
Hotel Magazine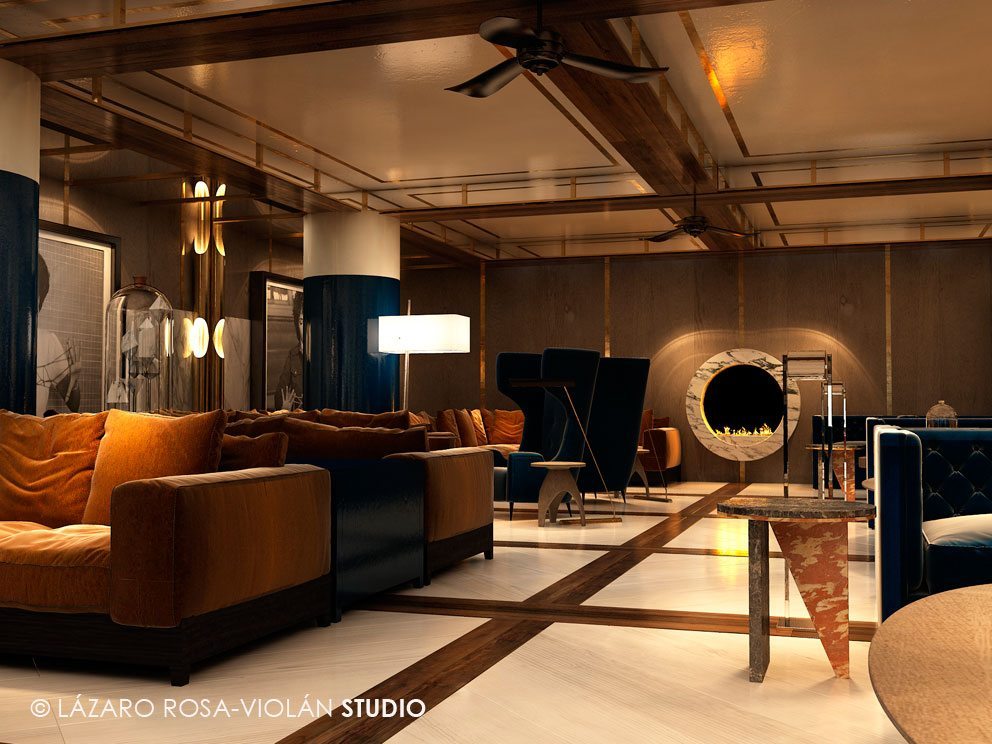 This hotel, located in Barcelona (Spain) has a circular fireplace. A real wonder to find it in front. Comfortable sofas, patent wood and warm lighting, give everything you need to this space.
Cotton house hotel
Delicious hotel located in Barcelona (Spain) I love the huge window, so you can take advantage of the lighting even more. The high ceilings give more strength to the glass and the doors in relief.
Hotel H10 Las Palmeras
Sophisticated hotel, located on the Playa de las Américas, in Tenerife (Canary Islands, Spain) I leave you three photographs, where you will see that yellow is the protagonist. The lights, in the form of balloons, give a fun touch. And what about the fireplace?
Hotel H10 Timanfaya Palace
This time, I'll leave you with a hotel located in Playa Blanca, Lanzarote (Canary Islands, Spain) As you can see, the wood is patent, as well as nature, with those wonderful trees that blend with the environment. Circular seats, for passersby and a huge window that makes the door in turn. As you can see, the lighting worries the artist a lot.
Ofelias hotel
This hotel located in Barcelona (Spain) has the lowest ceilings, so the coating that you have added shines and reflects a little. The designer takes care of the lighting of all spaces.
Hotel Fare
Impressive hotel located in Barcelona (Spain) with aquamarine sparkles and white as the main color. Also the crystal, is one of the great protagonists of the space.
Hotel H10 Playa Esmeralda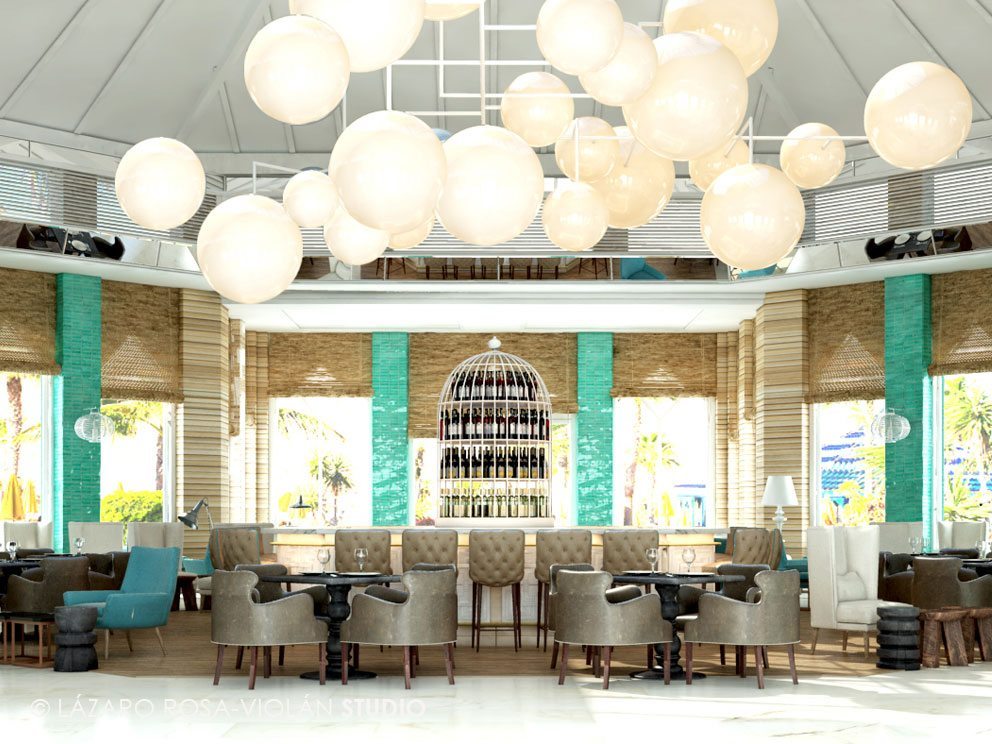 This hotel is located on the Costa Calma, Fuerteventura (Canary Islands, Spain) The columns in turquoise, combine very well with wood. In addition, as a detail, the drinks are arranged in a rack that acts as a large cage.
Hotel Praktik Bakery
This hotel, located in Barcelona (Spain) It is perfect to go on vacation a few days. I leave you with three photographs where you will see that perhaps it is easier than others, until now, but very practical. The orange, gives a lot of joy to the place.
Hotel Praktik Vinoteca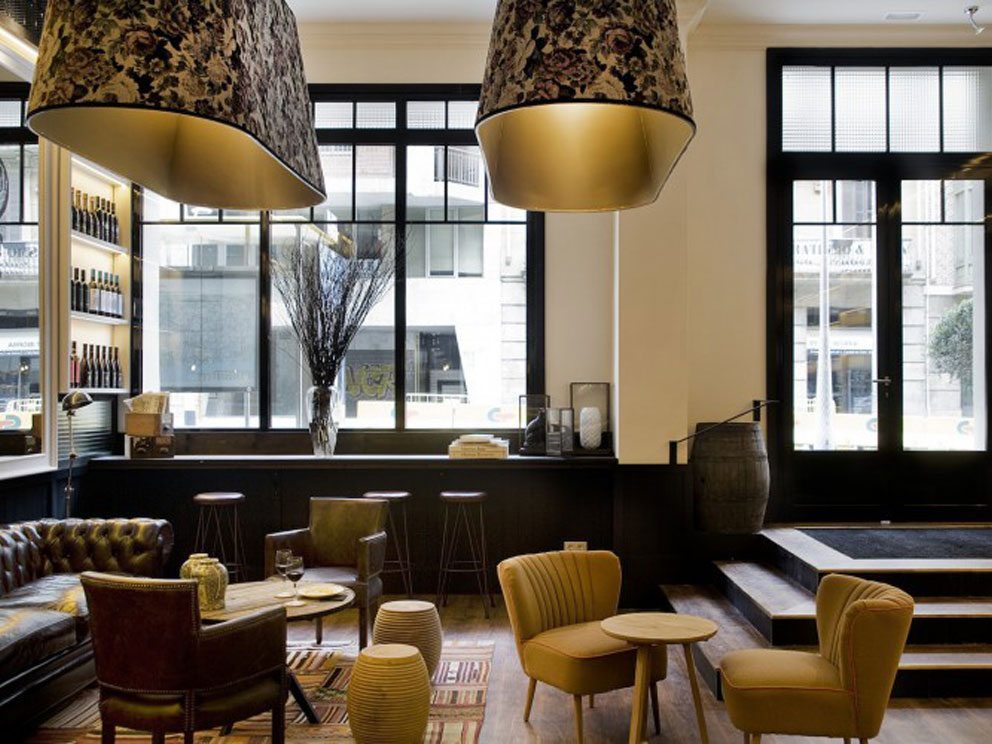 Great hotel, located in Barcelona (Spain) where you can enjoy a few days of relaxation. The idea of ​​entering this space, it seems that you change time, time and time. A place, completely different where the wood has a lot to say.
Hotel H10 Montcada
This beautiful hotel is located in Barcelona (Spain) Simply, I love how the rooms communicate through the semi circles.
Hotel H10 Catalunya Plaza
This hotel, also located in Barcelona (Spain) has the gray color as a source of inspiration. The truth is that the gray and white are great.
Petit Komité Restaurant
This hotel, designed by Lázaro, is located in Bilbao (Spain). The Chester type armchairs are great to the atmosphere that also seems from another era.
Hotel H10 Big Sur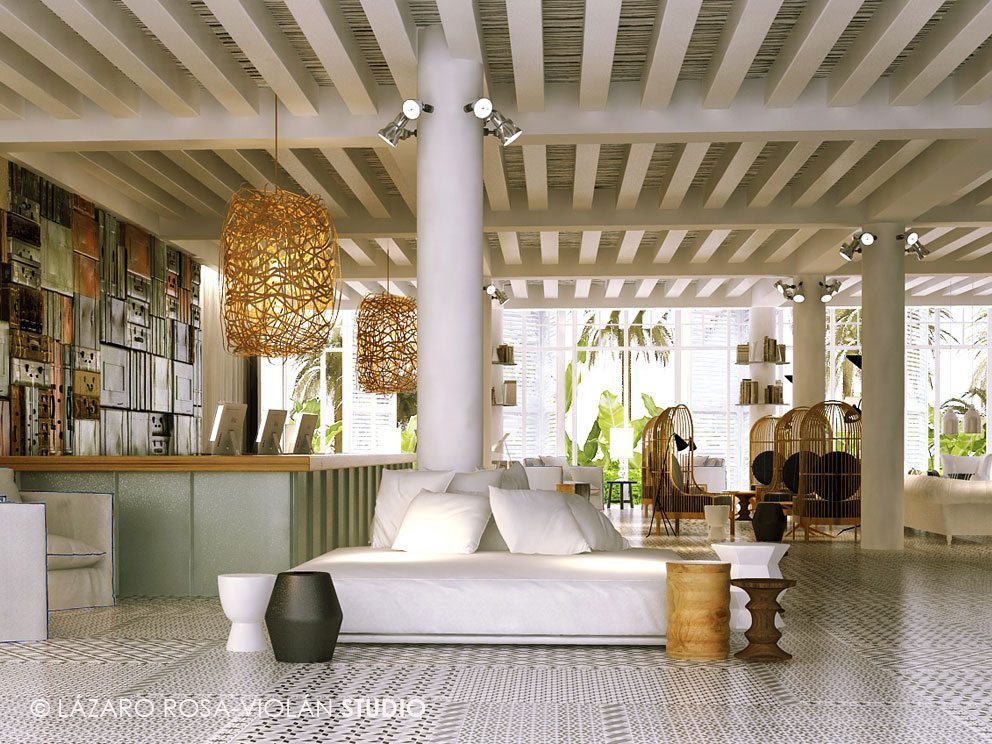 In this case, I invite you to enjoy the hotel located in Los Cristianos, Tenerife (Canary Islands, Spain) A beautiful building, with an interior decoration rich in fibers and natural fabrics. Rattan or bamboo are very present.
Metropolitan Hotel H10
In Barcelona (Spain) you can find this hotel, Maybe with a more retro decoration. It is great the great carpet that is under those sofas that seem so comfortable.
PGA Catalunya Resort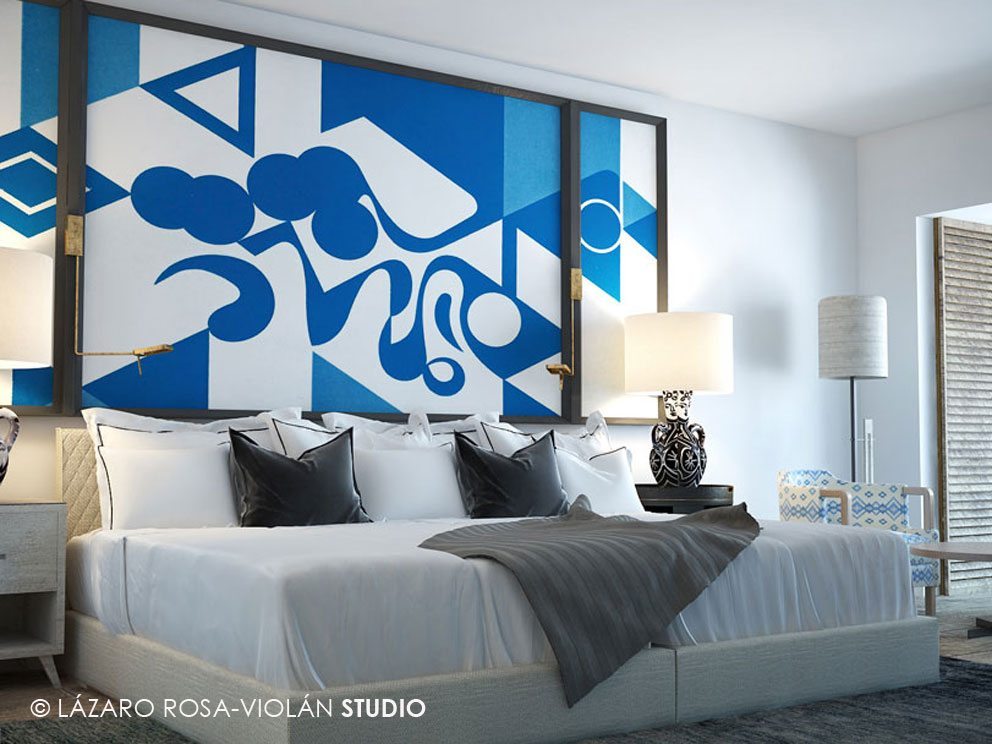 Finally, I leave you with this delicious hotel in Caldes de Malavella (Spain) where you can enjoy different activities. On this occasion the wood and the white combine as always ... but they add a darker blue. The resorts combine a variety of recreational and great activities. What are you waiting for?
In particular, I think he is an excellent designer who has achieved great success in a very short time. This interior designer has a rather peculiar style. And, the truth is, being in one of the hotels decorated by Lázaro Rosa Violán It has to be like a kind of trip to the past or the future, a journey through time. Have you ever been to any of these hotels? What do you think?