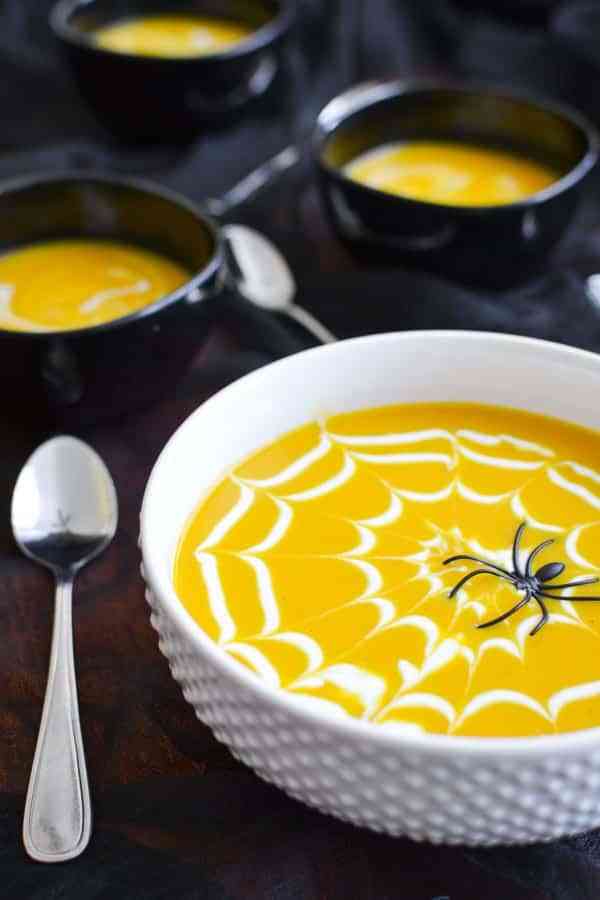 If you have thought about giving a party the night of the living dead and you want it to be a success, you will have to think about the menu that you are going to make for the occasion. It is not enough to gather a few sweets to give to the children. Rather you will have to prepare some Halloween recipes that everyone likes. Here we leave you three of the most tasty ideas with which you will triumph for sure.
Beyond the usual candies that children collect from door to door, the most terrifying night of the year deserves a special menu. And if not a menu with first course, second and dessert, at least some delicious Halloween recipes. With some tasty and original ideas you can compose a set of appetizers and other delicacies so that the guests at your party will suck their fingers.
Today we are going to tell you three very special recipes that will help you to be the perfect host. A pumpkin soup with cobwebs, some originals cemetery tacos ass and pumpkin-shaped quesadillas. Discover how you can make such delicious delicacies. Easier, impossible!
Very original Halloween recipes: pumpkin soup with spider web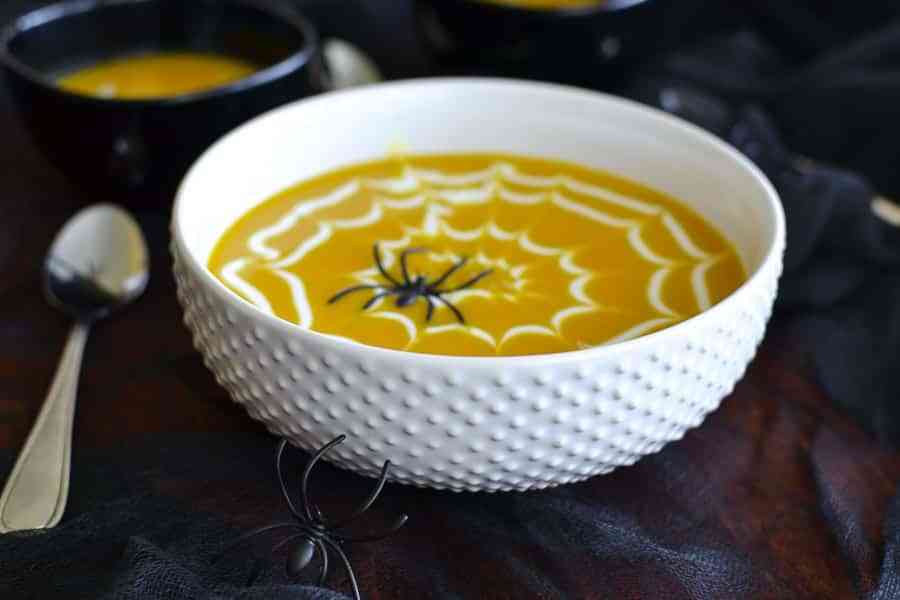 Comenzar Halloween dinner with a rich soup pumpkin It is a great idea. Not only will it be delicious, but it is also a healthy dish and very appropriate for the occasion.
To do it you will not have to be an expert chef. Simply put a little good will, and follow the recipe step by step. As it is very simple to elaborate, this terrifying soup with spider webs is available to any fan to the kitchen.
Ingredients and preparation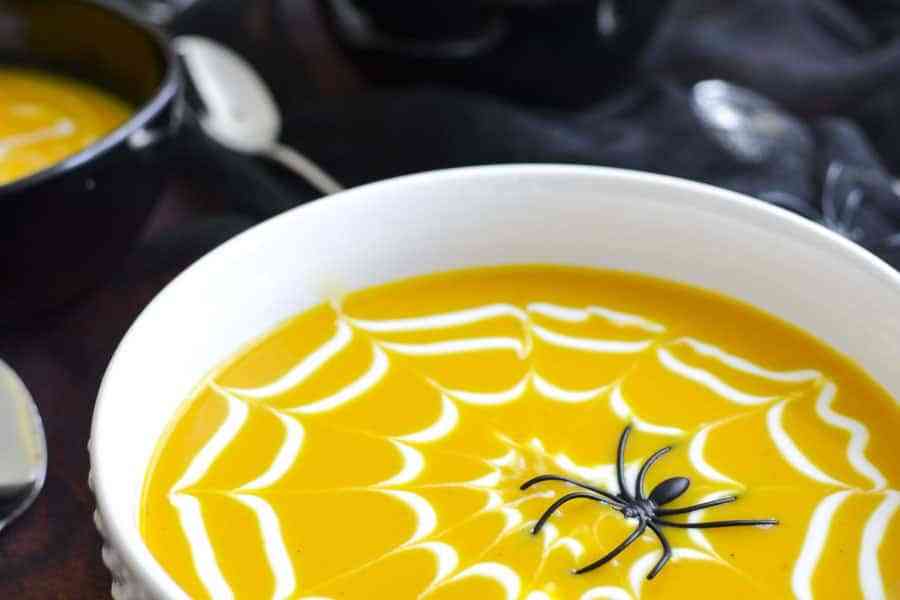 For pumpkin soup you will need to:
• 1 teaspoon olive oil
• 1 medium onion, chopped
• 2 chopped carrots
• 3 chicken broth cups
• 4 pumpkin cups, peeled and cut into cubes
• 2 / 3 cup of coconut milk (canned)
• 3 / 4 teaspoon curry powder
To make the spider web:
• 1 Greek yogurt cup
• 2 scoops and 1 / 2 coconut milk (canned)
Elaboration of the pumpkin soup. We move on to action!
Put a large casserole over medium heat and heat the olive oil. Add onion and chopped carrots and sauté until tender.
Then add pumpkin cut into squares and cover it with the chicken broth. When it breaks to boil, remove the lid of the casserole and let simmer until the pumpkin is soft. Add the curry powder.
Remove from the fire and beat the pumpkin with the blender until you achieve a smooth cream.
Add the coconut milk to the pan and heat the soup. Give it to you in the bowls where you are going to serve it.
The final touch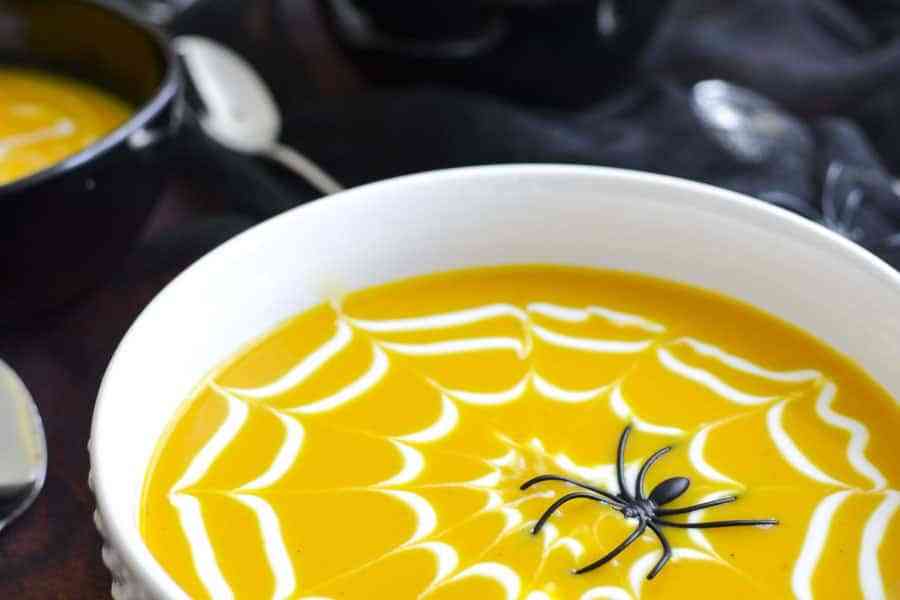 To do the drawing of the cobwebs, You will have to mix Greek yogurt and coconut milk. Put the mixture in a pastry bag. If you do not have one at hand, you can use a zip-lock plastic bag to which you will have to cut a corner to make a small hole.
Make concentric circles in each bowl and use a toothpick to make lines that go from the center to the outside to simulate the drawing of the spider web. Decorate each bowl with a small plastic spider (Of course, very clean). The soup is ready!
Cemetery Tacos
This recipe for tacos in plastic cups is not only delicious. In addition, it will serve to decorate the table in an original and fun way. The cemetery tacos It is one of those Halloween recipes that surprise everyone.
These are the ingredients what do you need:
• Pizza mass
• 1 canned black bean jar
• 2 ripe avocados
• 2 garlic cloves
• The juice of a lemon
• 1 can of black olives
• 1 / 2 chopped onion
Preparation:
The first thing you have to do is bake decorative tree and tombstones that you will put in each cup. For this you will need to make a paper template that you will later use to cut them into the pizza dough. Start by preheating the oven to 220ºC.
Cut the tree and the pizza dough tombstones with the help of a fine-tipped knife. Place them on a baking sheet, paint them with olive oil and salt and bake from 5 to 8 minutes until golden brown. Let cool and then write on the gravestones the word RIP with an edible pencil.
Now put a heat the black beans over low heat and reserve.
For make the guacamole, Put in a bowl the pulp of avocados, chopped garlic, lemon juice and salt. Mix these ingredients well.
Now you just have to mount the cue in each cup putting some black beans. Then add a layer of guacamole and, on this, chopped olives and a little onion finely chopped. You already have it!
Pumpkin-shaped quesadillas
Here a very easy recipe that will delight young and old, and that is very fun if you are looking for ideas for a Halloween party.
To do them you will need:
• Dough of round baking rolls
• Mozzarella cheese
• Cheddar cheese in thin slices
Preparation: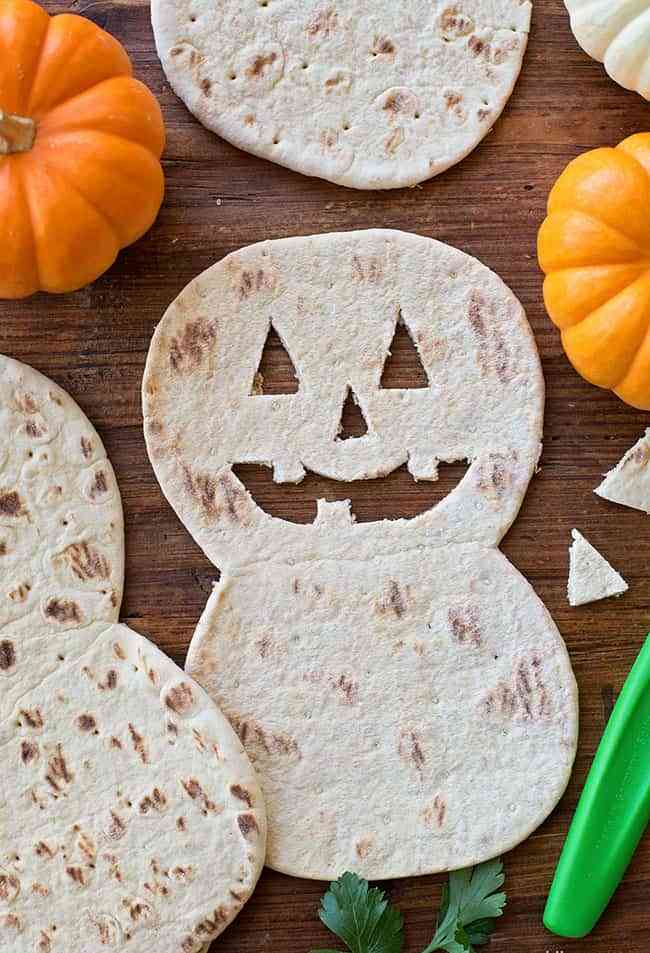 Preheat the oven to 220 ° C. Then cut the flatbreads in half and draw a pumpkin face in one of the parties. Use a sharp-tipped knife.
Put a slice of mozzarella on the part of the bread that is not cut and then a layer of cheddar cheese. Place the lid with the pumpkin face. Fill all the rolls in the same way.
Bake for about 5 minutes. After lightly press the face so that the melted cheese comes out through the holes of the eyes and the mouth of the pumpkins. Cool!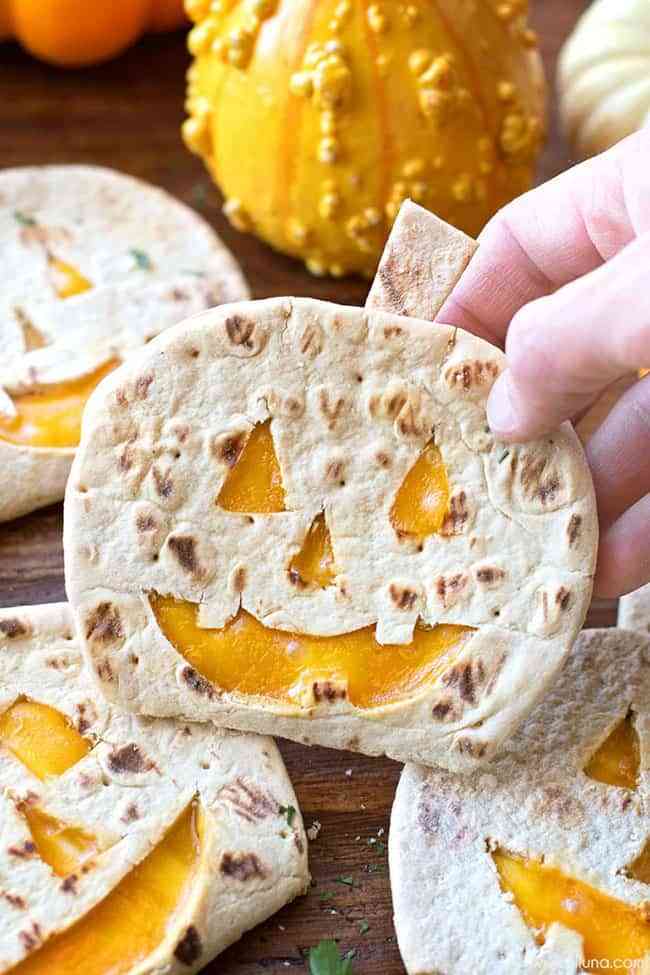 As you can see, with some original ideas you can prepare a lot of Halloween recipes of the most rich and fun. Your party will be an event!