La Christmas decoration, surely you already have it planned and maybe you have already dressed your house for the occasion. However, there are always details that can be added: at the time of putting the table, on the tree, some centerpiece ...
Here are some original ideas to decorate your house this Christmas.
The decoration of table It is always very important, but at Christmas it is even more important.
Some simple cups, a bit of Water and a floating candle inside each cup. Only these three elements together become the perfect detail to decorate any table.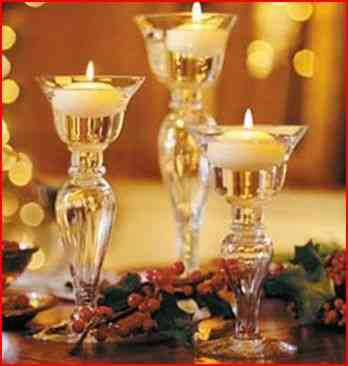 And if you turn the cups and you substitute water for garlands and the floating candles by small candles, you will continue having an original detail on the table that turns your table into an elegant table.
Or you can fill your cups de small stones that hold Candles somewhat higher. It also includes some detail like leaves or flowers Together with the stones, the result will be even more original.
El silver color, in the Christmas decoration it is always synonymous with elegance and sophistication.
This idea can also be applied as a decoration on your Christmas table or if you prefer you can use it as a center to decorate any corner of the house: a small table in the living room, the hall or wherever you want.
To realize this original idea, you only need: a silver fruit bowl, silver Christmas balls, a strip of balls (the one usually used in the Christmas tree), silver, 5 simple candles and silver thread.
All you have to do is join the candles with the silver thread, place them in the center of the fruit bowl and hold them with the Christmas balls and the silver balls.
Simple, original, elegant and economical.