If you are romantic by nature, if you are waiting for May water to arrive on Valentine's Day, then read on because this article will interest you. Here are some great ideas from decoration for Valentine's Day. So you can give your whole house a very loving air. Do not cut yourself!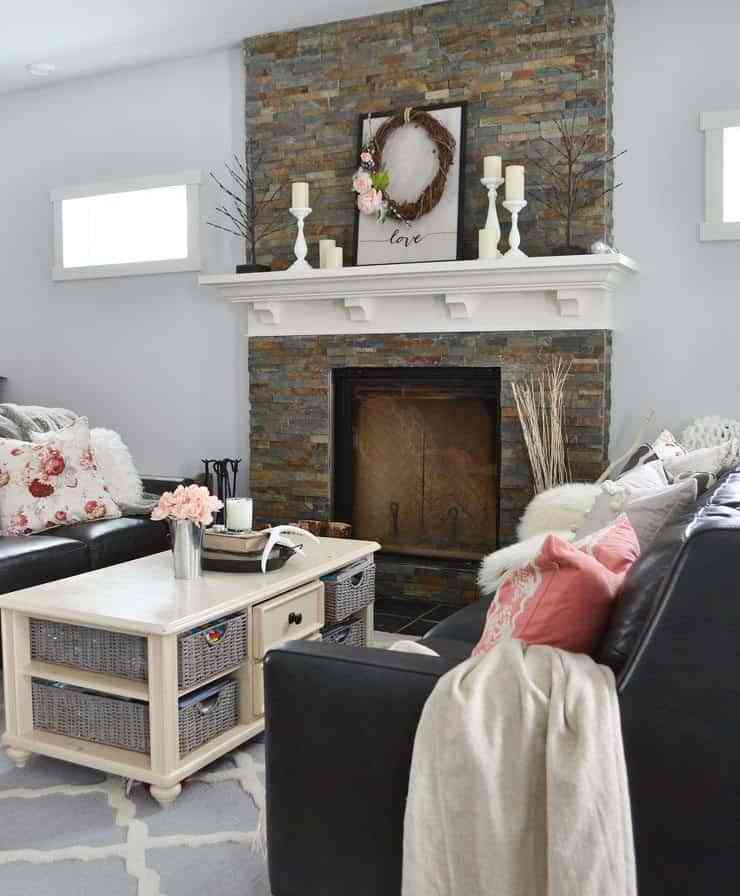 The most romantic personalities are in luck. The most passionate day of the year It is just around the corner. If you are a born romantic, now you have the perfect excuse to give free rein to your passion. With these suggestions for create special environments and you will only get in your home a decoration for Valentine's Day that your soulmate will love.
Decoration for Valentine's Day: between passion and romanticism
Yes, we agree. That Valentine is all year. What should we show our partner that we love him? everyday, and that Valentine's Day is an invention of department stores to get, once again, that we leave the savings there.
However, who does not like to receive a detail on the February 14? Who does not enjoy preparing or letting themselves surprise with a special dinner for two? That's why we wanted to let the passion overflow us and we wanted to give you (yes, you say you're not going this roll of the day of lovers) some decorating ideas for Valentine's Day so that you can enjoy the beautiful setting your house beautiful for your sweetheart. And for you, of course!
Take care of the details in the living room
Being in love does not mean, always and at all times, that we see the world of pink. Not red passion. We will say that it is going through a wide chromatic paradise in which the colors are authentic, intense. For that, and although the red is the color of Valentine par excellence, as far as decoration is concerned, it is not about dyeing the house with this passionate tone.
The living room, for being an area open to the outside and more "public" (although it does not stop being your own house, of course) can accommodate a decoration for Valentine's Day more moderate and subtle. Decorate it with certain details that put the romantic note, but without excess.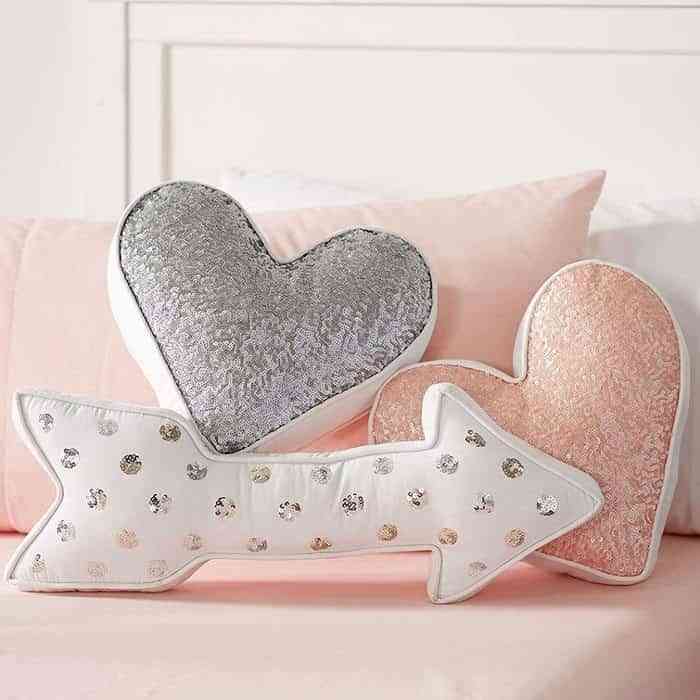 En este sentido, the cushions are a good alternative, since you can change them in a more or less easy way, without having to invest a fortune. You can even customize some for the occasion. You can decorate one with a heart, in another sew (or paint) the word LOVE ... Give it imagination!
Other details that can not be missing in your room in this passionate date are Flowers and candles. Both elements will help you get the perfect decoration for Valentine's Day. In addition, they are subtle details that bring a touch of love without losing elegance. Flowers can be placed in vases, centerpieces or wall decorations.
Y, as for the candleslight them without fear. To illuminate the table, on a shelf, on the low table in the living room ... They help you create an intimate and peaceful atmosphere, perfect for the occasion. Do not you think?
A special table for two
Prepare the romantic Valentine's dinner is one of the things that most excite (at least to me) of this celebration in which love is the protagonist. And that does not only mean that you have to get into the kitchen to cook something delicious that your average soul likes.
It is about decorating (also) the table for dinner, so that it is very clear at the first glance that this is not a night like all the others.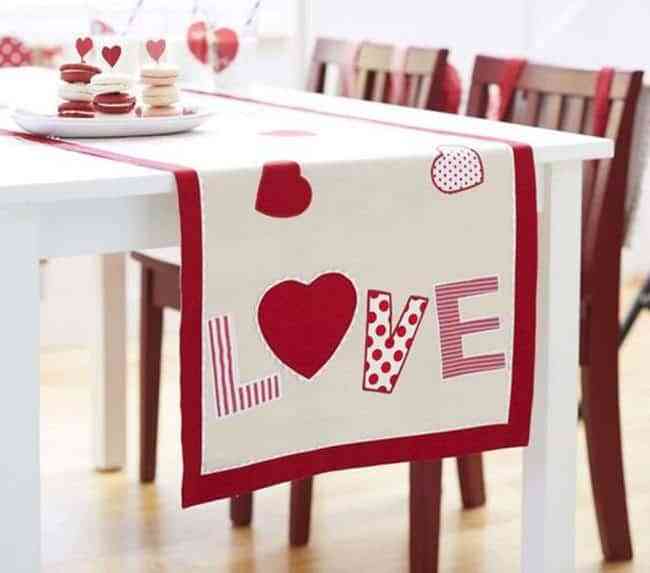 starts choose table linen and napkins. You can use the ones you have saved for special occasions, although you can also get a more specific one. How is the photo that has red tones and is decorated with the word LOVE.
Crockery and glassware are also important, although I think that the key is in the small details: simple candles, some red roses ... You can leave one of these flowers, a symbol of passionate love, on each plate. Success is guaranteed!
Do not forget the bedroom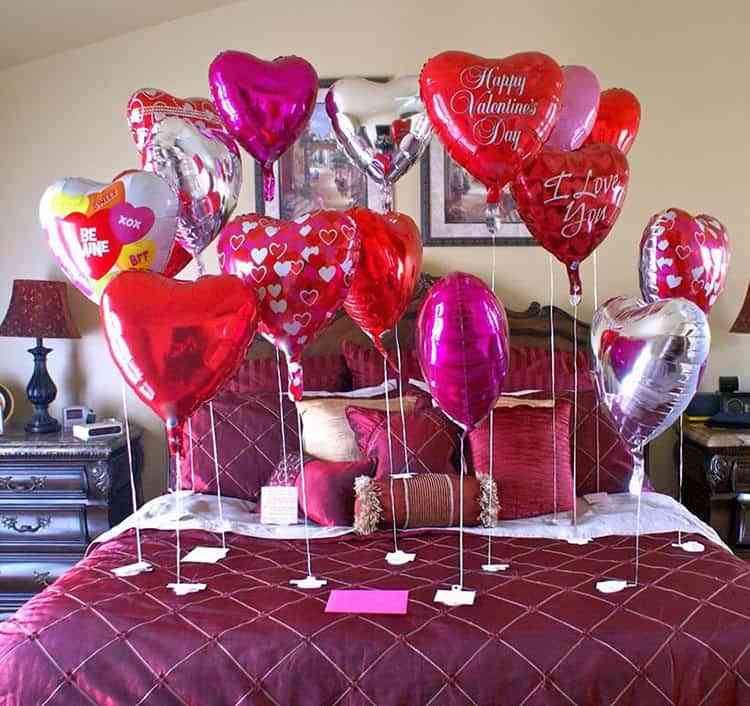 And we arrive at the bedroom, the most private place in your house. If you are thinking about some idea of ​​decoration for Valentine's Day, here are some interesting ones. In the bedroom we can unleash our passion, also in regard to interior design. So do not stop and take your most passionate self out for a walk.
What do you think of these balloons decorating the bed? Reds, roses, silver ... Your love will be a big surprise.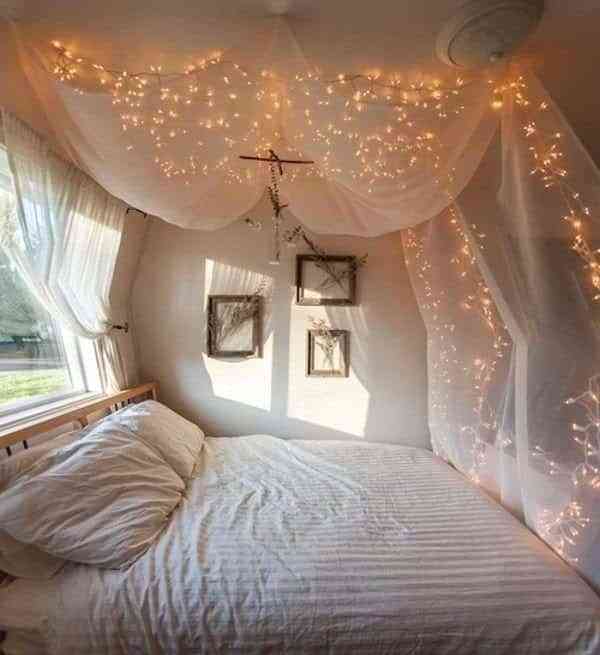 Or you can also put a touch of light very delicate with a garland of LED lights and a white tulle.
Be that as it may, the important thing is that you live the February 14 in an intense, passionate and special way. And keep the flame alive for the rest of the year. Happy Valentines!