You may not have had a free minute. Or you may not have a budget for large decorations. Anyway, today I'm going to tell you some last minute ideas so you can decorate the room on Halloween and get your house a dark touch.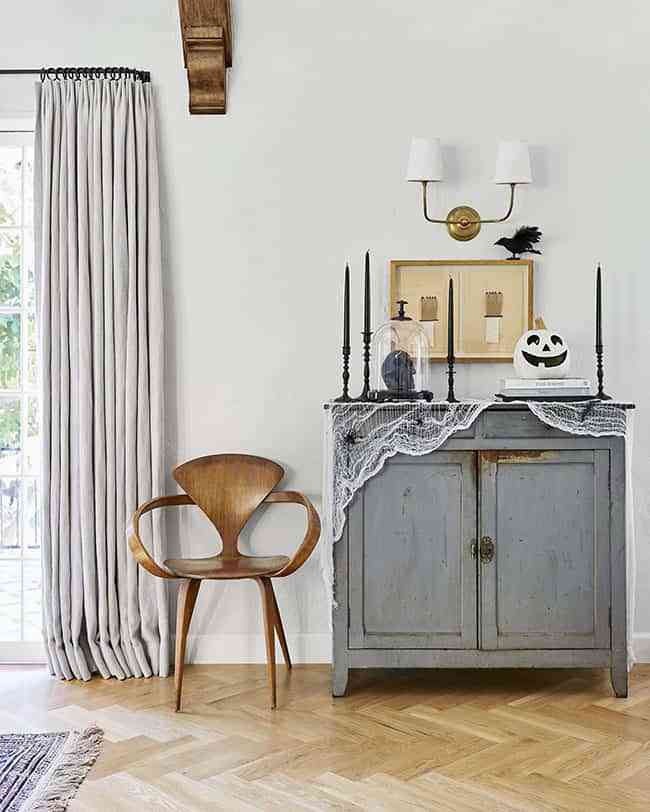 The days pass fast and swift in the calendar and, although it is certain that you had in mind that the Night of the Dead was just around the corner and that the date was approaching, in the end the bull has caught you. Well do not worry. Today we bring you a few last minute suggestions, for decorate the room on Halloween and that is ... ghostly!
If I explained to you a few days ago How to decorate the house for the occasion with some DIY ideas made by you, today it's about slogans a lot simpler and faster. Something that does not require too much time and no effort. Here you have them!
Super easy ideas to decorate the room on Halloween: black candles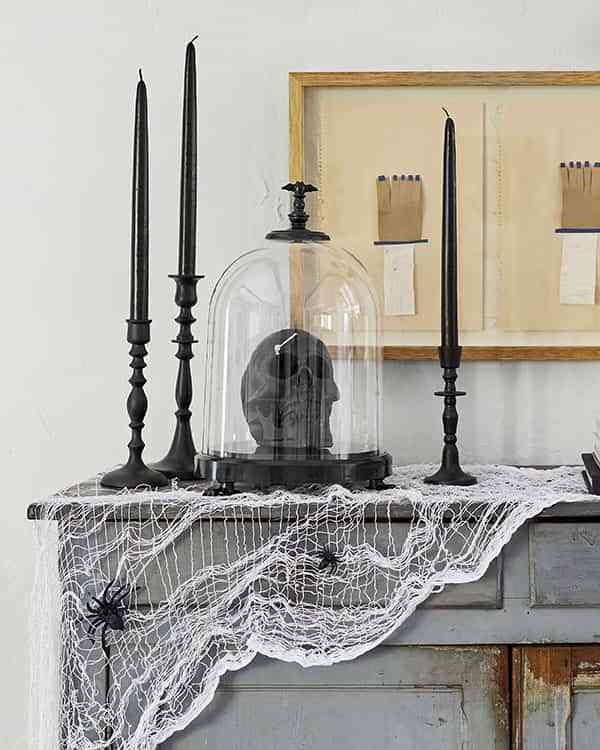 The important thing about the tricks and ideas that we are going to bring you today is that They are tremendously easy to put into practice. In fact, once you read this article, it will suffice to approach the bazaar that you have closest and buy (for little money, of course) a few things, if you do not have them at home.
We start with simple candles that, despite their simplicity, are capable of put a mysterious touch in any environment. The key is to gather enough candles, which are black, and that they carry chandeliers of different heights. If you already have candlesticks and do not want to compare others, you can always paint them with matt black acrylic spray paint.
Then decorate the living room with these disturbing candles. Put them on shelves, side tables, shelves ... wherever you want.
Candles in bloody version
If you like the idea of ​​candles to decorate the room on Halloween, but you want something more terrifying, nothing like a bloody candle instead of the black ones from the previous point. Get the effect of some candles dripping blood It is the most simple. And also fast, you'll see.
You just have to buy a few white candles and a red candle. Place the white candles together in a container with sand, so that they are held vertically. Now light the red candle and pour the melted wax on the white candles, so that it drips on them. You just have to wait for the wax to cool. Have you seen how easy it is to get some bloody candles to decorate your living room on Halloween?
Spider web ... black!
I have already spoken to you on other occasions about the many decorative possibilities that spiderwebs When the most terrifying night of the year arrives. However, today we go a step further and we give you a great idea.
It's about placing some black spider webs distributed throughout the room. You can hang them in the lamps, in the paintings, in the furniture ... They may be less realistic than the white cobwebs, but you will not deny that they give it a dark touch To the environment.
In addition, black spider webs stand out much more on clear walls and furniture.
Uneasy Ravens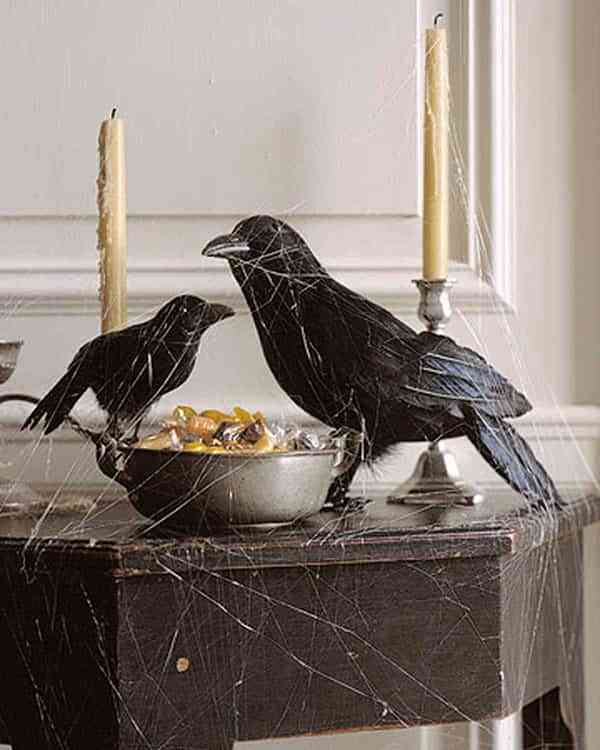 Here you have a special resource to decorate your living room on Halloween. Put a few birds of ill omen Strategically distributed by furniture and accessories can be a perfect funeral detail for this night of terror.
If you seem special the bats, and its great power to decorate a Halloween decoration, today you will realize that the black crows they have nothing to envy the winged rodents.
Chiffon fabric on furniture
Although it looks like a detail similar to that of spider webs, it is actually a great way to change the overall effect of the room. The gas cloth reminds mummies and also provides a effect of uninhabited house, Do not you think?
Place it as an improvised tablecloth on the dining table, or on an occasional piece of furniture. A wrinkle here, another there and ... ready!
Ghostly hands in the mirror ...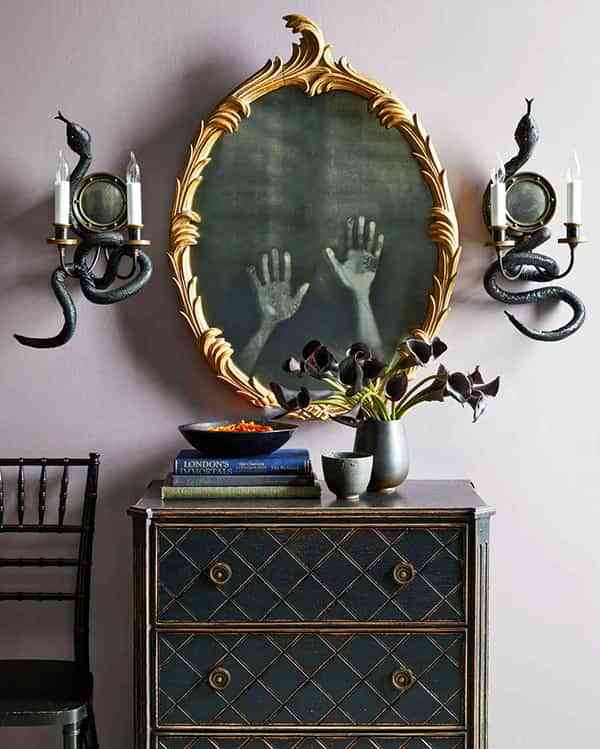 This detail is the most original, do not you think? A very mysterious way of introduce a strange presence when decorating your room for Halloween. And, besides, easy to do.
You just have to download the template from your hands here, print it at the right size to the mirror where you are going to place it and take it to a copy shop where they can print it on transparent vinyl self-adhesive
Already at home, you will only have to Paste the printed copy on the mirror and cut the excess with a cutter. Easier can not be.
As you can see, all these ideas are simple and will save you a last minute Halloween meeting at home. Enjoy this spooky party and ... be very careful!