Have you always wanted to have a fireplace in your living room? Now you can enjoy the feeling of having one, even if it is not authentic. Look at these ideas to create false chimneys on the wall, and choose the one you like the most.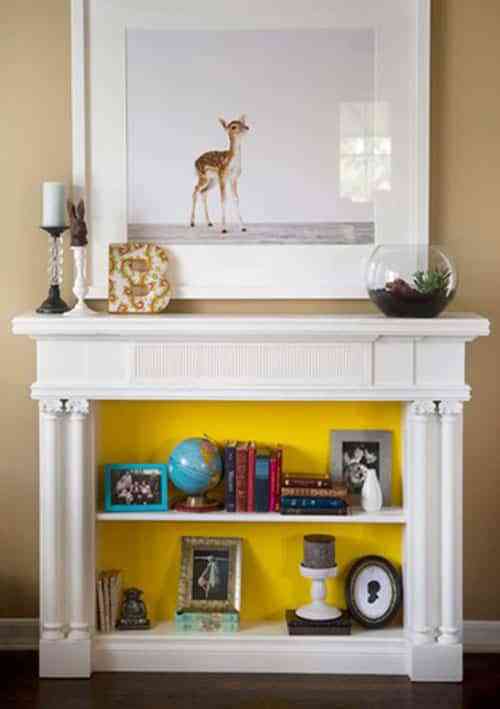 Winter offers us many good things. One of them is the special feeling of Be comfortable and warm at home when it's cold outside. Sit in front of the fire that sizzles in the fireplace and watch the flames crack as you savor a cup of coffee. Can there be something more hygge? The problem is that it is not always possible to have a fire to light. However there are ways to recreate false fireplaces that are very decorative. The heat of the fire is another song ...
We have researched a little to discover some original ways to decorate your living room with a fireplace, yes, a lie. And, in doing so, we have realized that the idea, far from being an error, is very decorative and special.
Check it yourself and think if you would not like to have one of these special fake fireplaces. If you decide, do not think about it anymore. You can do the jobs, since most are quite easy.
False chimneys without will of deception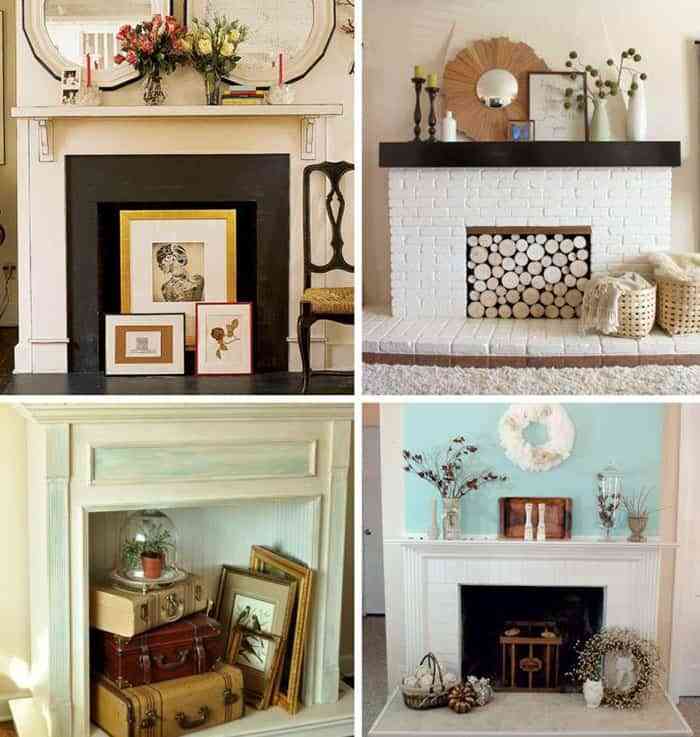 There is an essential idea that I would like to convey: it is not about deceiving anyone. It would be absurd to even try, since It is quite evident where there is and where there is no fireplace. The key is to use the embouchure of the fireplace to create a decorative resource with which to give prominence to the wall. And to use an original idea to recreate the idea of ​​fire.
Take advantage of the hole in a bookstore
An original way to decorate the room while you get storage space for your books, is create a floor-to-ceiling library that occupies the entire wall. If you have one or want to mount it, you can take advantage of the central hole (in its lower part) to get the feeling of having a fireplace.
The embouchure is made of wood and the upper part can be Place a decorative molding. The background was painted black. A trunks of wood and a garland of yellow lights (better choose one LED strip lights) recreate the fire in a special way.
The beauty of a classic embouchure
This idea is simple to put into practice. Enough with superimpose the embouchure on the wall and fix it properly. What matters is finding a nice and decorative model like this one in the photo.
The classic shapes of the fireplace already draw enough attention, so the color black was chosen to paint the embouchure, a color that blends with the dark gray of the wall.
To recreate the sensation of fire, white candles of different sizes have been used, which is very evocative.
White color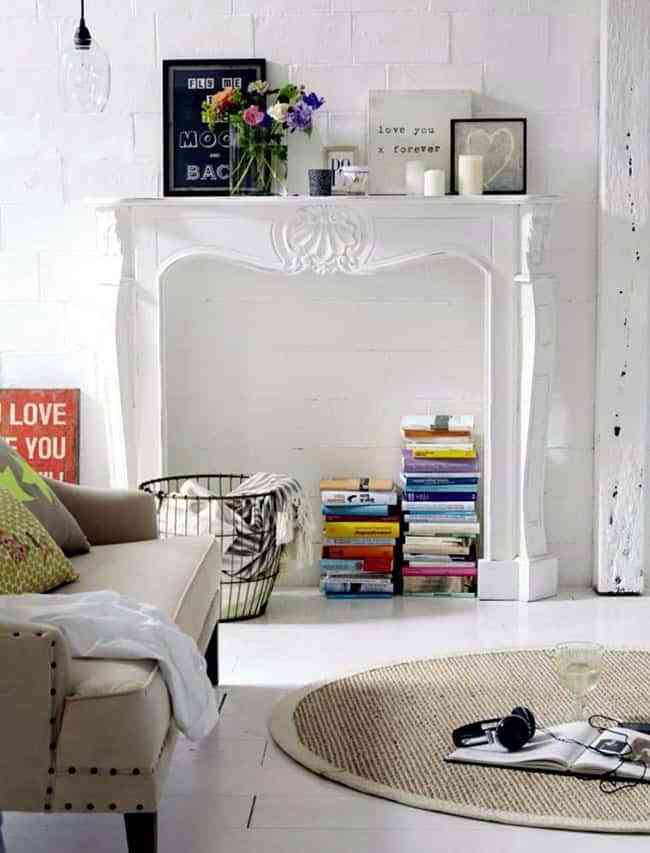 A similar idea was used for this wall. A classic white embouchure on a brick wall also painted white. Simple, elegant and original.
In this case the idea of ​​fire is replaced by a space in which to stack books. This idea is quite frequent and nothing is wrong, although I think it is not very practical.
The power of yellow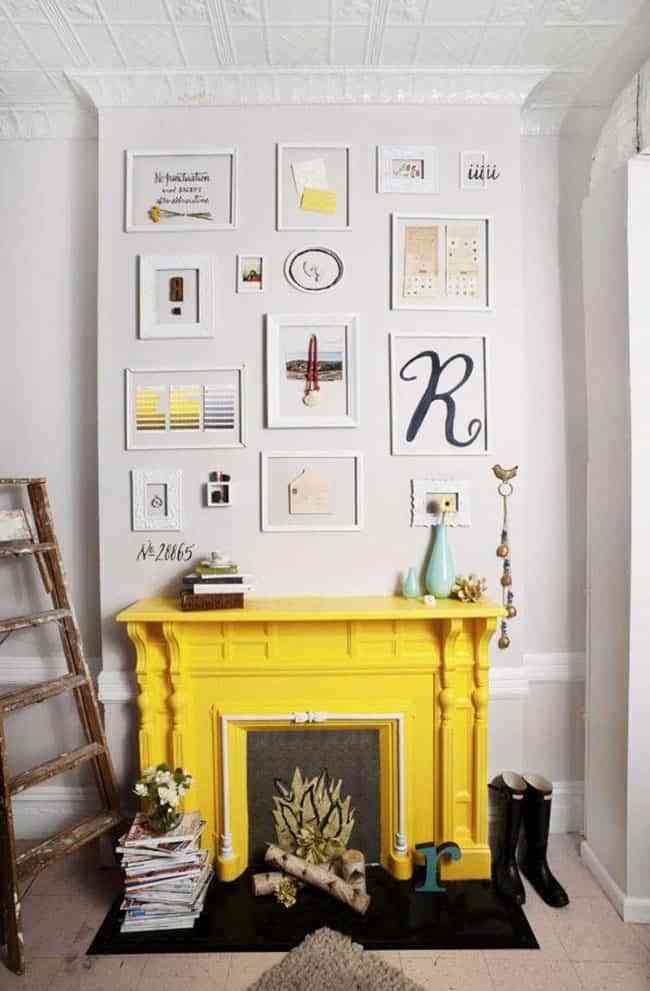 We continue to use color as an essential resource when arranging false fireplaces to decorate the living room wall. Now we resort to intense yellow to put a modern and striking note.
Above the embouchure, a gallery of framed objects. Surprise the DIY idea of ​​fire, which seems to be made of cardboard.
Play in contrast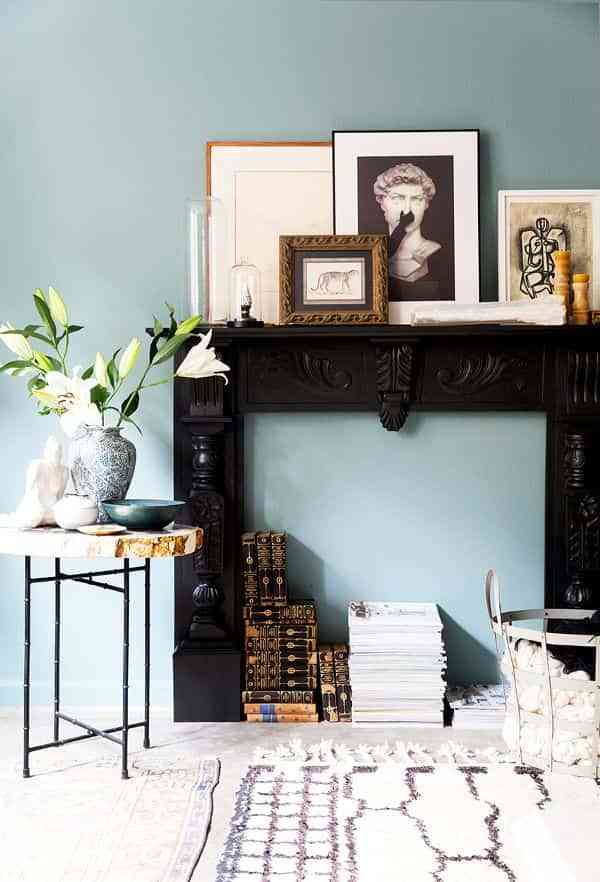 Have you ever seen a simpler idea than this to create the feeling of having a fireplace, and at the same time be more decorative? I, of course, no. I love the contrast of the black embouchure on the blue wall. And also the way in which the set has been decorated. Without a doubt, it is the most special and elegant way to create fake fireplaces, right?
Stacked books and magazines, a recurring idea, are now used again to decorate the space where the flames should dance.
The naturalness of wood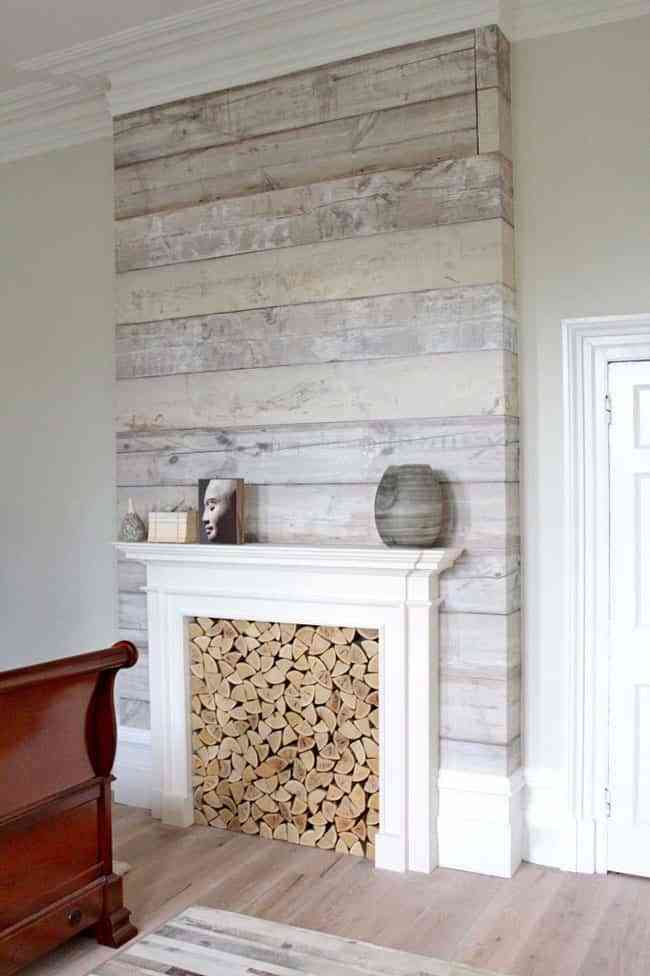 Finally, I bring you an idea that you can do yourself. Actually all these false chimney mouthpieces are easy to develop even if you are not a DIY expert. As you can see in the image, in this case Rustic wood slats have been used to cover the wall from floor to ceiling and enhance the space in which the embouchure goes. The work is simple, since this type of slats are easy to cut and paste (there are even, self-adhesive).
To decorate the hole in the fireplace, it has been used a wallpaper that imitates a pile of stacked logs.
In any case, there are many ways to recreate the effect of false fireplaces in our own house. Choose yours and get down to work.