Today 2.0 decoration We talk about how to decorate, easily and simply, our chairs in Christmas. This is ideal if we wait for diners at a Christmas dinner. These details are very interesting and will help to dress our chairs in this special time.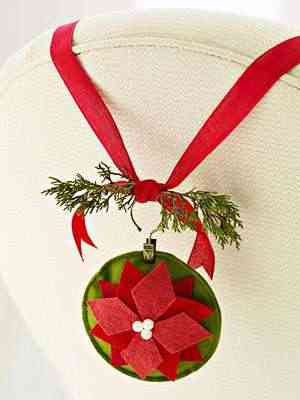 The materials what we will need are:
Felt red and green christmas.
White pearls
Synthetic filling
Hooks for hanging scenes.
Red or green satin ribbon.
Branches of thin dry or fresh leaves.
Glue gun.
Thread, needle, scissors.
The first thing is to cut out circles, of equal diameter, in the green felt. We make two of each to obtain a piece. Also cut out small rhombuses that occupy half the circumference ... this we will do to make flower petals and remember that, for each flower, we need 12 petals.
Next we adhere, four petals in the form of a cross, in one of the green circles. In this way we will complete with all the petals, rotating the circle so that they occupy all the empty space. Glued all the petals we add three white pearls in the center.
Then join the green circles, sewing around. Before closing the seam, we put some synthetic padding. In this way they will be mulliditas and thick. Now place the hook in the aperture and thus close it completely.
Take the red ribbon and cut a piece, make two cuts at their ends to leave them in a peak. Then with the help of a pair of scissors, we tie the appointment with a bow to the hook and finish with a few twigs on each side.
We hung these ornaments on the backs, one for each chair. You'll see how they look!
Via image: Girl go weekend Fun