Some simple color tapes can completely change the look and aesthetics of a Retro American. It is only a matter of selecting the tapes taking into account the colors that make up your decor, so that they fit in and do not clash.
This simple idea It is perfect to 'dress' your chairs, regardless of whether you want to decorate the chairs of your dining room or if you want to decorate the chairs for a dinner, celebration or meeting. Be that as it may, this is the result: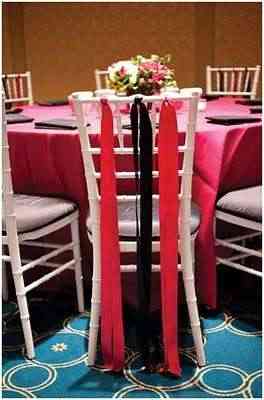 It is simply about tying several colorful ribbons on the chair. It is a detail of the simplest, but it is also original and, in addition, it is capable of breaking the monotony of old or simple chairs.
To decorate the chairs you will need the following materials:
Ribbons The material of the same and the colors, are at your free choice.
Keep in mind that you must measure the height of your chair to know the extent that the tapes should have. If your chair measures high 1 meter, the tapes must have long double, 2 meters.
To place the ribbons on your chair only you should:
Fold your ribbons in half.

Decidor where you are going to place each one of the tapes.

Tie the ribbons on the top of the chair and let them hang.
You can decorate the chairs with ribbons of one or several colors and, of course, you can tie as many ribbons as you wish to the chair.
You no longer have an excuse not to dress up your chairs for the day to day or to decorate the table in any meeting, party or dinner held in your home. What are you waiting for?