When going to school, it is important to select the decorative elements of the bedroom in order to add both attractiveness and comfort of the room. However, it is entirely up to you how to decorate it. You can make a small bedroom very cozy and attractive, so it is important that you decorate your bedroom thinking of comfort as a starting point.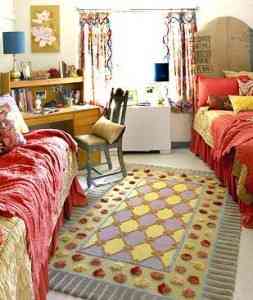 Below are some of the most important comfort elements that can be added to the decoration of your bedroom, which provides you with a cozy home, away from your home.
1). Large carpet:
Placing a large carpet, not only soften the appearance of institutional hard floor, but also make it more inviting to relax or exercise on the floor.
2). Soft Mattress:
The comfort of a bedroom bed can be improved by using a feather mattress or mattress, as they are very soft and comfortable, and are easily available in any fiber or feather fill.
3). Good lighting:
Consider lighting the task centered on the desk, near the bed, and a chair so you can work and read anywhere.
4). Accessories for closet
The cabinet accessories are used to solve storage problems in small living spaces. First, you need to evaluate your space, then select from an excess of shoe door racks, belt and tie holders, stick racks, and hanging shelves to tidy up your clothes and accessories.