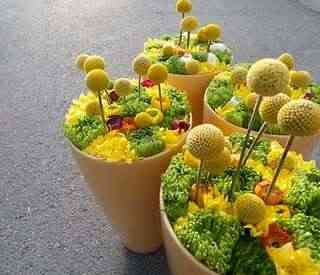 Flowers, flowers and more flowers ... because they start smiles, because they are delicate, because they do not occupy space, because they decorate any room, because they fill your house with fragrances, because we love them !!!
For people design: Ikebana, the subtlety of the Japanese floral arrangements will surprise those who enjoy modern art, design objects and minimalism.
For different people: floral arrangements that recreate extraterrestrial landscapes. There are many flowers and plants to choose from, these with Martian look will combine perfectly with daring and original spaces. These are from FlowerbyBornay.
With Valentine the romantic plans, the gifts, the poems, the flowers, the chocolates arrive ... from the shop windows they remind us that we have a detail with the beloved one, that we say a "I love you" and surround ourselves with candles and perfumes, and although we all know that all this coming and going of hearts is pure marketing, if we have someone to love we usually do not mind falling into temptation ... simple and comfortable, you can ask for a ready-made arrangement or dare to put your creativity to the test by composing a bouquet of Flowers to your style.
Flowers, flowers and more flowers ...
Collaboration: Miss Garden