07: 00 of the morning. The alarm goes off and it's time to get up to go to work. The daily routine forces you to go to the closet with your eyes still glued and, between dreams, choose the clothes with which to dress for the day that begins. Unless you prepare it the day before, the time to choose the clothes in the morning is the first headache, and if above you see nothing or little, even worse. Where was that shirt that now does not appear?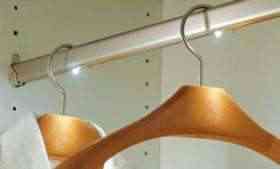 The search will be easier with this lighted hanger bar called Lite Inside. It incorporates small LED lights that turn on automatically when the cabinet is opened and turn off when it closes. The installation is very simple, does not need cables and hardly consumes energy thanks to the technology of LED lights.
In addition the measure is not standart so that you can order several sizes depending on the wardrobe. The company has official distributors in many countries, including Spain.
Further information: Hettich International
Via: Home Improvement Ideas