Originality and ingenuity, in the decor, can offer very good results ... Below you can see some simple ideas that show that, leaving the 'rules' and pre-established ideas, sometimes, results in solutions and special decorations, original and charming.
So, suddenly, what would you do with some paint containers?
If you can not think of anything, here is an example of what could be done with them:
What at first may seem only plastic containers that in principle only serve at the time of painting, as if by magic can become a functional and very original ledge in a work area. In addition, combined the shape and color of the containers, combined with antique furniture, as you can see in the image, result in a retro decor that is charming.
If what you need is a different and original decorative element, here is an idea: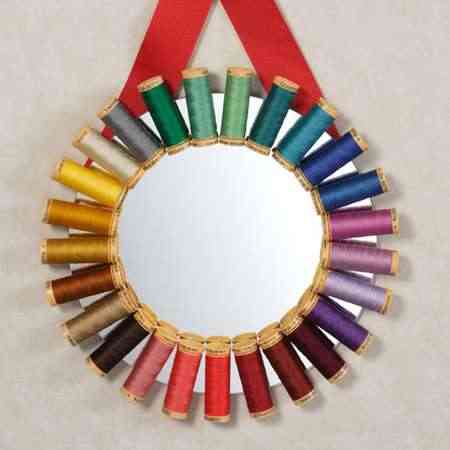 As you can see in the image, to carry out this idea you will only need a mirror and some spools of thread... It is simply a matter of sticking the bobbins of thread around the mirror, creating a fun frame that is very attractive. You can play with the colors and tones of the threads to create beautiful effects and to fit with the rest of the decoration.
In any space or corner of the house, this mirror, for its originality, will become the center of all eyes.
As you can see, to decorate and find practical solutions in decoration, it is not always necessary to invest large amounts of money ... With a little imagination, any element can be perfect to decorate. TheImagination to the power!