Practical and attractive child chest for bedroom, that you can choose to shape the decoration of the baby's bedroom. The trunks are furniture that have always been known, it can be said that they are the same thing for so many furniture to store clothes and other details exist today for bedrooms. Children's trunks are very practical to keep the children's stay organized.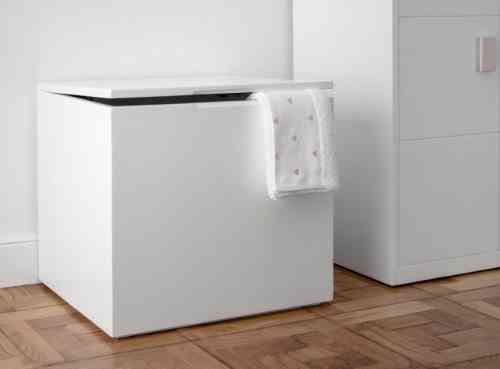 Buy a child trunk for a bedroom
Buy a trunk for the baby's bedroom, It allows us to keep in one place, a variety of details that we must keep at all times at hand. And clear that the order is indispensable in this one as in all the stays of the home. And to order and so much better if it is as attractive as this, we suggest the trunk of the image, with white lacquered wood, although there is also blue and pink lacquer that is especially suited to the baby that will occupy this bedroom.
Characteristics of the infant trunk for baby
this beautiful trunk for the baby's bedroom, Not only does it look great but it is also very practical. It includes a hydraulic safety compass to avoid sudden or accidental closing of the lid. It is made by hand in Spain, with high density waterproof MDF board (anti-humidity). It has been lacquered with solvent-free ecological quality 1® lacquers.
It has a size of 50x46x40 cms, which is perfect to fit into any size of children's room. As you know, the furniture both in this and in any room should be of a size that serves their purpose well but also functional so that they do not take away space from the room. Also, this children's trunk It complies with safety regulations that we must always keep in mind when it comes to furniture.
Child's trunk to decorate baby's bedroom
There is a wide variety of furniture that is integrated into the decoration of a baby bedroom, because they are functional or because they are decorative, with the children's trunk, both aspects are fully met, and well chosen quality as we show you today, allows us to have a piece of furniture that will be durable and functional. This is from Woodsson in whose web page we have discovered it.