Let the one who does so raise his hand take a nap! It's known that "la siesta" is a custom Spanish ... well, not in countries like China, India, part of Africa and Latin America, among others, have this delicious habit.
The so-called siesta usually lasts between 20 and 30 minutes; It is usually "cast" after eating, because due to digestion the blood descends from the nervous system to the digestive ... causing the so annoying drowsiness. Because of this, thanks to the siesta we are able to gather new and vigorous energies; so necessary to continue our hard day.
For all this it is imperative look for a place of the dream that makes you feel like in a cloud ... who has thought of a cloud? Well, yes, I was thinking about this Lisa Widén, who has designed a true comfort for the eyes, for the body and for our sleep.
This designer has made a "little armchair"What a dream it gives me just to see it! In white, like any cloud in the sky, the Cloud Chair - Cloud Chair - What sounds good?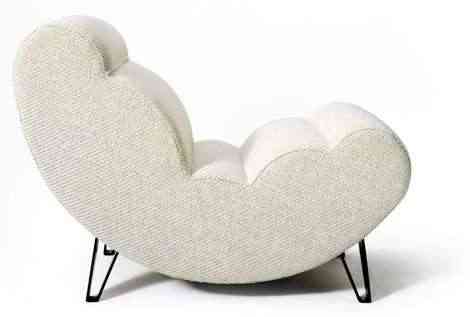 La Cloud Chair It has a half moon shape, it is soft, comfortable and soft; the seat has a rounded and irregular shape; Ergonomically styled It has the support a little inclined, so that between sleep and sleep do not drop our heads. Also for the complete rest of our body, the Cloud Chair has the seat area a little higher, in this way gives the legs the rest that ellas They deserve after a tiring day.
In the stability greater, this "little armchair", It rests on four feet. These are made of metal ... giving greater firmness.
La Cloud Chair it allows us an optimal rest ... I think it's already beginning to make me sleepy. If you are one of those who need a good nap this choice is, without a doubt, the best.