We see it in Decopeques, but nevertheless this idea can be used to apply in adult beds and even for other uses such as sofas.
Photo: Sandbox Studio
We will need a little time and patience to do it ourselves but we will save a bit of money, while we recycle and get an environment with rustic touches.
Photo: OhDeedooh
The first thing we have to do is to think about the pallets we need, depending on the type of bed or sofa we are going to build. Then we sand them to avoid edges and thorns, eliminate nails and soften the peaks (without getting round) to avoid any damage.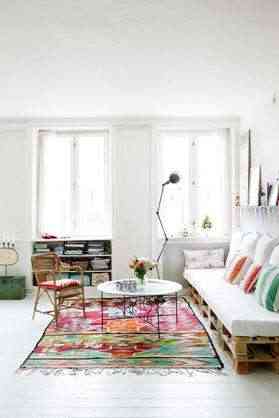 Photo: decoracion.trendencias.com
Once done, we have to varnish so that the finish is more aesthetic and smooth, although we can also leave them matt. If there is more than one height we must join them to prevent them from moving and the structure to fall.
Another option is to attach a small wheel that allows us to move it, although to reinforce in this case the pallets should be supported on a smooth wooden board, so that it holds all the weight. If we plan to use them as a bed we will need a more comfortable surface to support the mattress otherwise the slats can hurt our backs.
You see, with little money and enough creativity we can have a great bed or a leisure corner in a very short time.