Sometimes we complain and think about how unfortunate we are because we do not have space at home to do or put everything we want and it may be true, because sometimes, even if we are a space at the end, the rope breaks and what we have left It is a saturated environment. However, there are occasions (many) in which you can take advantage of space in the most unexpected way.
For example, if we see this picture, what would we do with this space? It is small, you will think, well then a small storage room, with some shelves to put the tools. Error.
I already have it: a closet. With upper shelves, a wall to wall and some space to put the shoes .... Error. The wardrobe will have to be sacrificed.
You had not thought about having a small space for an office or to have the computer? Well, it's just that: a small office.
If you do not believe it, you only have to look at the following images.
They are the same meters, however it seems totally different. What they have done has been to paint everything in a beautiful color, which in itself only fills the room and this blue is perfect. Later they have added some decorative element, but nothing that can remove centímentros to the few that we already have, with what they have chosen a vinyl with form of trees for the front of the wall.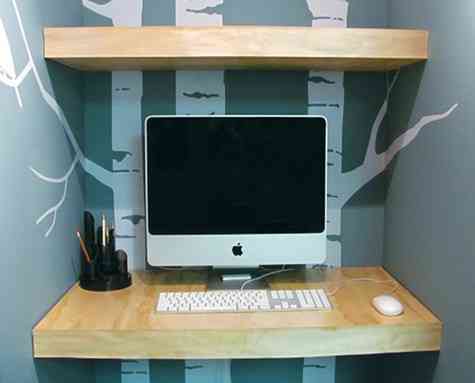 Then you just have to take the exact measurements to order or make shelves of the same size. A stool or puff instead of a chair will be the perfect complement to not take up space. Our computer equipment and a few books or cd will complete the new stay.
Via: Design Sponge