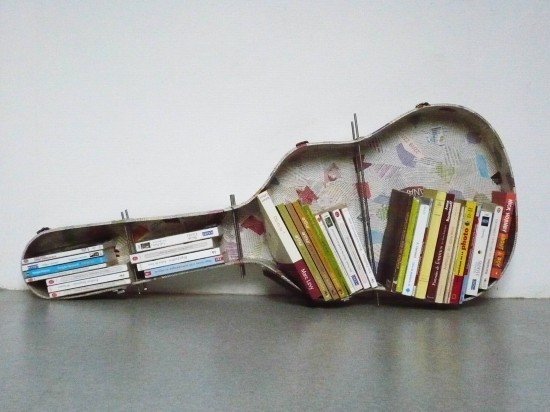 Seeing this idea To decorate, it seemed simply great. And it really is all advantages: it is very easy to implement, it allows us to recycle and also does not require a large investment.
As you can see in the image and as indicated by the title of this entry, it is an old guitar case that, with a few small touches, has become a shelf.
The necessary materials to carry out this craft are the following:
An old hard guitar case.
Paper (in this case it has been used to decorate newspaper paper but you can use any paper that you like and combine with your decoration).
Glue for paper or white glue.
A brush.
Varnish.
And these are the steps to follow to turn the case into a shelf:
Separate the case covers.
The decoration of the case can be done in many ways. To decorate the box that you see in the image, small pieces of newspaper have been cut and it has been sticking little by little. Although, if you are not going to decorate with newspaper and your paper counts, for example, with a pattern, you can cut the paper with the shape of the case so as not to spoil its design. The truth is that this step allows total freedom, it is to the taste of the consumer.
When the paper is pasted, the technique of the decoupage.
If you want you can use metal bars or demaera to create divisions, as if it were a real shelf. Estepaso is optional but recommended, especially if what you are going to place in your new bookcase is books, since it is much more comfortable.
Once you have finished sticking the paper and it has dried, you can start applying a layer of varnish. The varnish will protect the exterior and also allow for easier cleaning.