These photographs of a small floor designed, in an efficient way, it will show you that you can decorate your tiniest spaces. Do you want to take a look?
This house, of few square meters, is located in Taipei (Taiwan) A delicious space, where all the important functions are practically at hand. Actually, the activities of the day to day are shared within a same place ... but, thanks to the functionality of the design, the housing is wonderful. Completely open, the bedroom area, the kitchen and the dining room, communicate with each other.
Cloud Pen Studio
This wonderful study, It is composed and full of authentic creative interior design. They have many projects, with great functionality, quality and great visual aesthetics. This design apartment is not the only job, just the opposite! In addition to homes like this, they have other interior spaces with efficient decorations, comfortable, elegant and precious. Enter your main website, to know a little more about this and other works of Cloud Pen Studio.
Finally, I tell you that The apartment you see in the photographs, was designed in the 2014 by Cloud Pluma Studio. As you can see, the space is quite small ... so the whole team tried to be as creative as possible and design something splendid that saves space, time and money. Take a look at this apartment and you will see how well the areas around the place are used.
Beautiful and small apartment in white What do you think of taking a look?
The predominant color in space is white. This is because this color causes natural or artificial light to bounce off the surface and expand throughout the rest of the place. They correspond to walls, ceilings and floors in white ... and, also, some other furniture.
En general, They also make much use of plastic or glass to decorate and at the same time, balance the decoration. You know, that an excess of white could ruin all the decoration, so it's better to combine with something. The accessories and transparent furniture, like the stools, create a stunning visual cleaning.
To finish off and get some contrast, you can do it in the colors and tonalities that you think appropriate, through textiles like the green alfmbra or other things that you like. Depending on the style you want to give to your small space.
Small and elegant bedroom What do you think about the idea?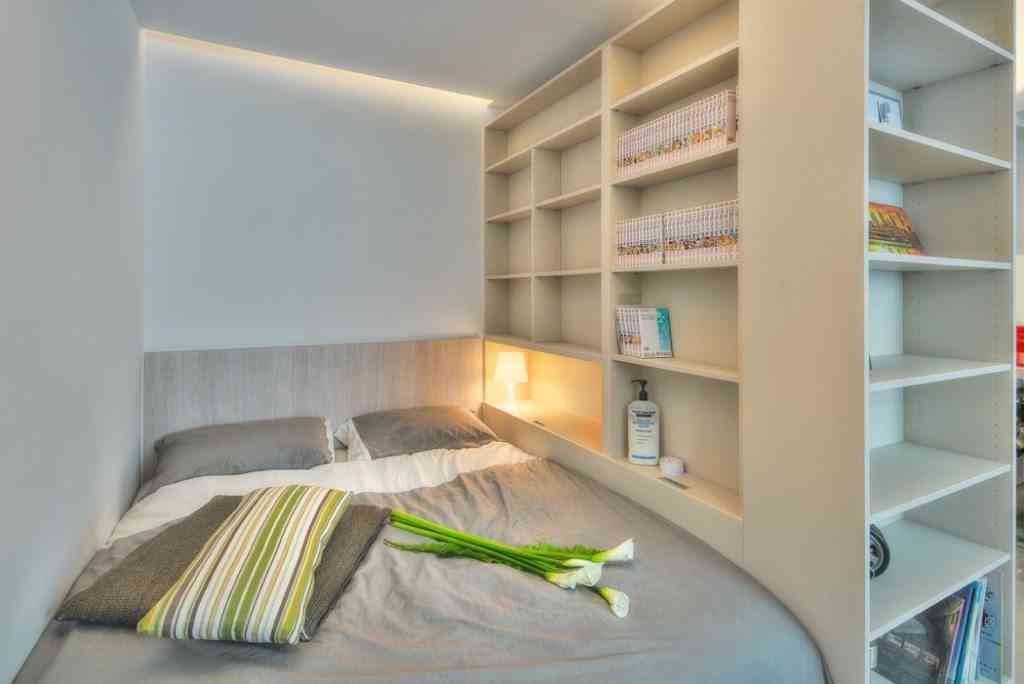 The bedroom, tiny, has been designed in a practical and functional way... perfect for day to day! The white color is combined with gray to obtain a much more elegant space. As you see, the walls have been used to include them as shelves to store all kinds of things.
The separation, from the small wall, makes the bed get some privacy. The open shelves will be very useful to store all kinds of things like books, notebooks, folders and whatever you want. In short, the idea is to make the place seem more spacious and orderly.
Elegant work area What do you think?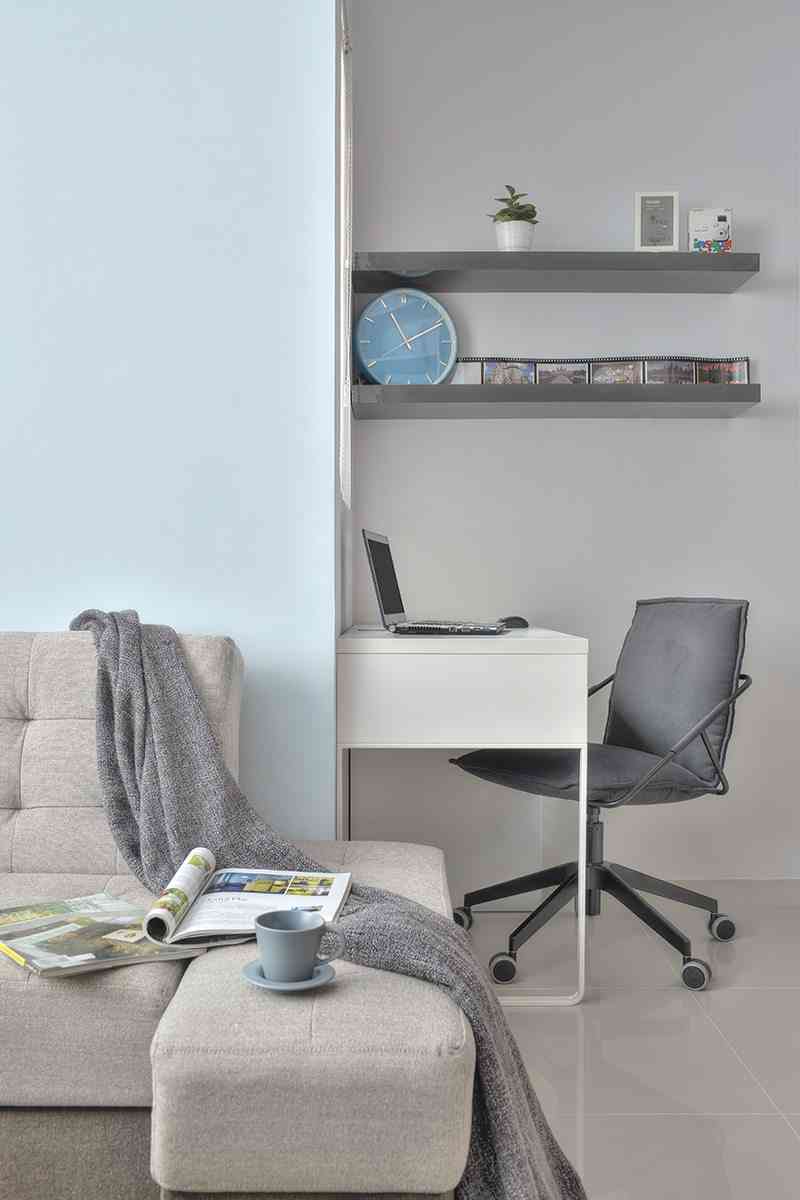 The small area of ​​work, is a very particular area which is found around the corner (as it says) The work area is right next to the sofa. But, the theme has been pretty well resolved thanks to the shelves and the mini table, where you can work. The colors white and gray, as protagonists.
Delicious lounge in white, green and gray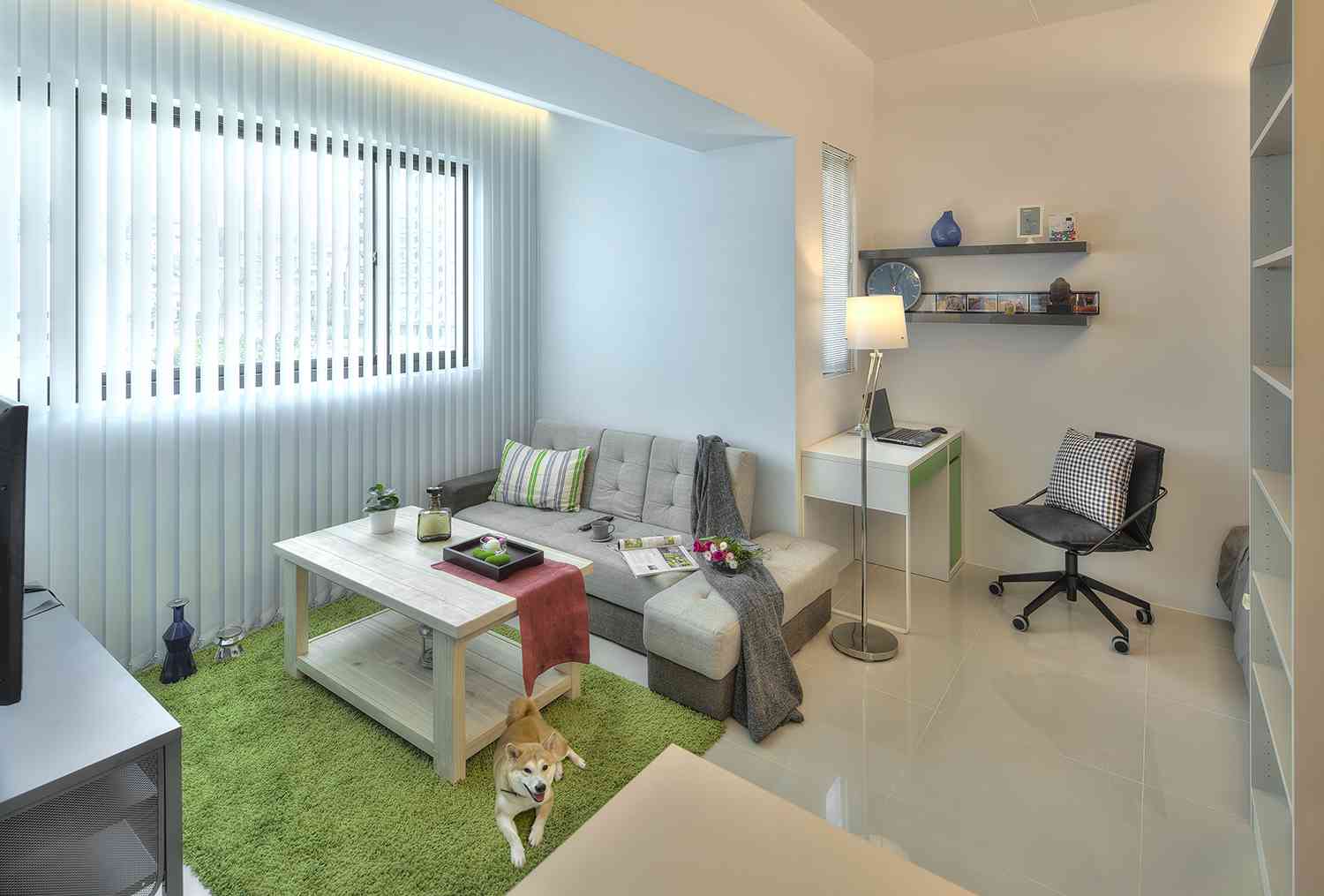 As you see, the lighting can not be lacking in this small space. From here, all furniture is light colored. The idea is to have everything you need at hand but well ordered and organized. Without losing the sense of aesthetics What do you think of the green carpet's attention call? I love!
A small apartment with everything you need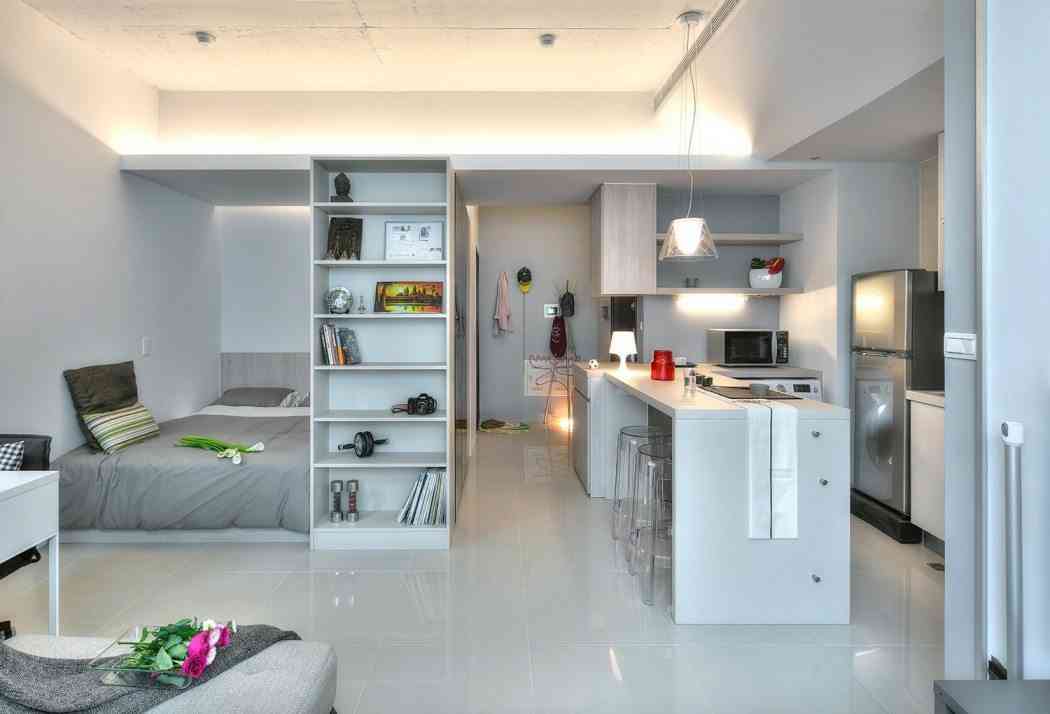 This overview, It will inspire you if you want to decorate your own home. When you do not have meters to throw away, sometimes you can complicate finishing a house correctly. I, advise you to inform yourself and / or ask a professional, how you would redesign your home so that your furniture and your things do not occupy so much space. As you see the order, it is imperative in this place. What do you think?
Full kitchen with hall
To be a kitchen in such a small place, it's not bad... in fact, it's bigger than mine and my house is bigger than this one! Of course, this kitchen is a very practical and functional space, great design where it has left quite a countertop (since then it is used more than it seems)
As you see, there is a lot of storage such as compartments, cabinets on the wall and lower cabinets. Something that I love, is the kitchen island because it is useful for a lot even as a table to eat. What do you think?
Cozy room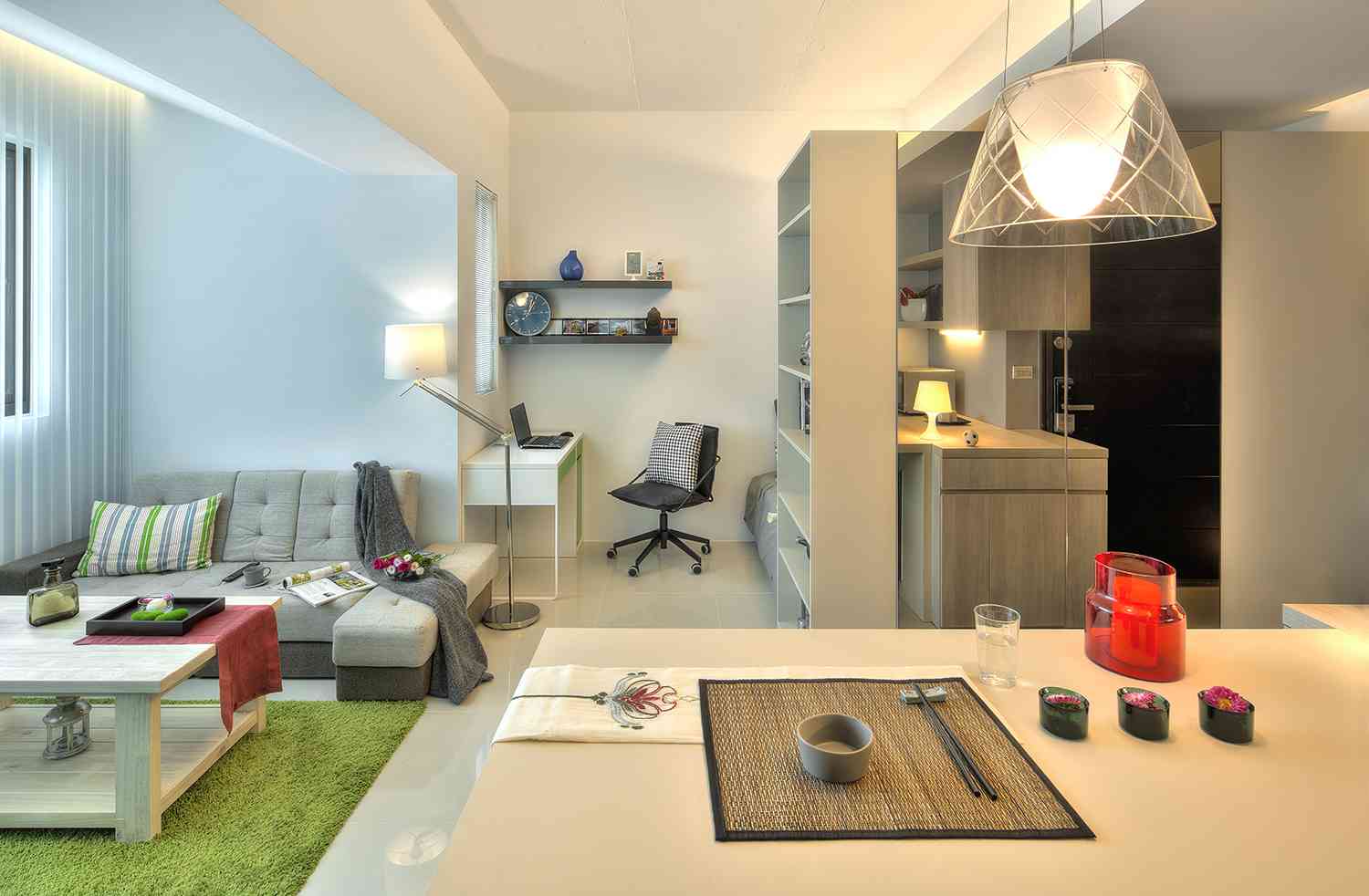 View from another angle, the house offers a most welcoming space. Although, the blinds are arranged so that between the light of day ... for the night or a more intimate lus will be great.
Living room with study area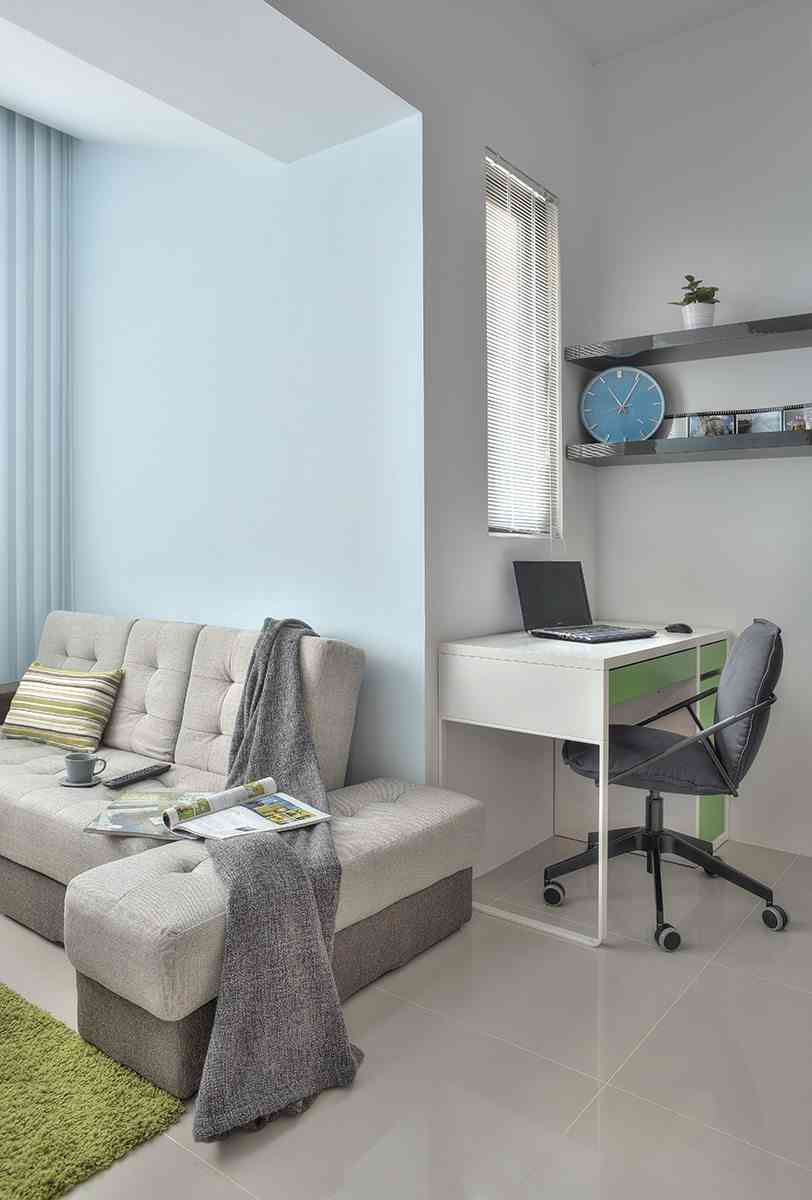 Com I mentioned earlier, this house has to share different activities ... so it is normal to see the desk, next to the sofa. But, it looks great thanks to the design of these great creatives.
What do you think of this type of small designed floor? Do you have a very small floor and do you think you can not decorate it? If you think you can not decorate your small spaces, you are very wrong. These photographs, they intend to serve as inspiration for those people who wish to change the look to their home or who need more space.
As guidance ideas, I propose you this article. I hope that you have been very useful and that you can carry out all the processes you need. What do you think of this small designed floor?