¿Who wants an ashtray? Does anyone need an ashtray? The ash should not be thrown to any place or corner; No, that's not bad, but do not despair! Here I bring the remedy... this curious and decorative ashtray ... fireplace!
Well yes, you listen well, it's a fireplace-ashtray... or ceni-chimney, as I have baptized it. The ceni-fireplace is built of wood, although there is also stone, and has the shape of a home.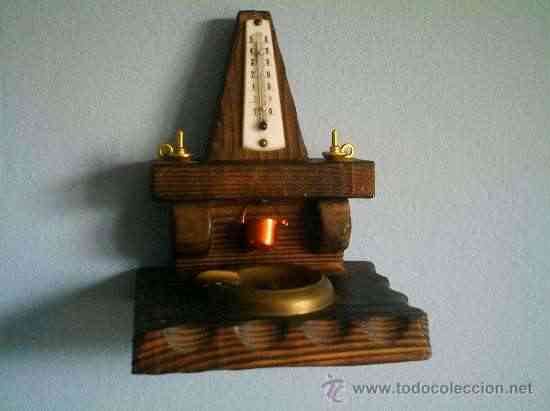 At the top, it has a small shelf where two small simulation candles are located. Just below this shelf is a tiny "little kettle" as if the soup was freshly made, ready to drink, how delicious! or maybe it's a cube that, filling it with water, prevents us from going out burning, although I prefer the soup but ... with this you never know.
In the body itself, above, a vertical thermometer is integrated, to measure perhaps ... the hottest nights?
Finally the standing, of the ceni-chimney, we find a small ashtray with its small notch, to measure, to locate our "cigarette"; also, the foot is decorated with small rounded notches in the form of semicircles, giving it a more original and striking appearance.
La ceni-chimney can be hung as decoration reason in the wall, setting the room as the kitchen or the living room ... also, this ashtray, is designed to be located leaning on any table serving as a decorative element while functional. Although the ceni-chimney gives a lot of play in the interior, also, it can be located in an external zone, for example, on the terrace or in any patio.
If you're looking for ashtray that is differences, decorative, distinct and functional, the ceni-fireplace is your choice, without a doubt. Its price is 20 €. The dimensions of this beautiful ashtray are: High 16cm, Bottom 10cm and Width 13cm.