If you are looking for accessories for your romantic decoration, today at 2.0 Decoration we tell you how to make a fantastic centerpiece. In an easy and simple way we will get a great centerpiece.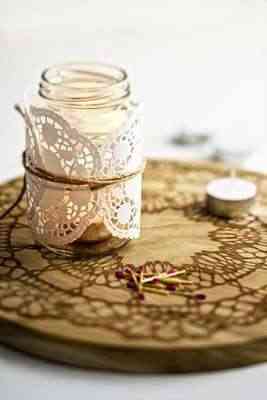 To make this super candle holder we will look for a beautiful glass jar that we like. It can be any type of container, but always that we like it.
Once chosen, we will clean the bottle very well and dry it. Searching for the candle will be the next step. In particular this is a tea candle, but we can look for another type that does not like it or a color that catches our attention.
The next thing is to get some rustic thread or cord and some paper lace. We will tie the thread to the contour of the bottle together with two or more blondas.
As we see we have finished our particular rustic center. If you like the result ahead and decorate any space you need.
Photo: patchworkharmony.blogspot.com