At present we can decorate almost any object and item that we have at home. For example, the crockery, if you are tired of always seeing the same and do not want to pull the pocket ... we have the solution! Why not update it?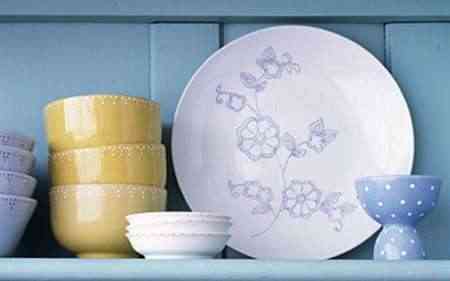 A little paint, a little imagination and voilà a new crockery for us alone. To personalize it, all you have to do is gather the following materials:
- Crockery
- Paperboard
- Scissors
- Vinilic glue
- Pen
- Scotch tape
- Red paper
- Ceramic paint
- Coffee filters
- Bottle with paint applicator
- Baby wipes
The first step is to draw on a cardboard, the design we want to make on the tableware. We can do the one we like best, although if we do not have a lot of hand, the simpler the better it will be.
Once drawn, we will make points following the image. It is a technique that will be precious in our dishes. Then we will cut the image with the scissors and adapt it to the dimensions of the piece of tableware that we are going to paint.
The next step will be to put on the piece - plate, cup ... - the piece of red paper. We support it well and on this we place the template that we have made with the cardboard. We stick both with the adhesive tape, to the piece of the crockery. Now with the help of the pencil we will copy the design, to transfer it to the plate.
The third step will be to add some white paint to the ceramic painting and place it on a coffee filter; this will help us obtain clearer tonalities. The mixture will be placed in a bottle that has an applicator.
Now with the applicator we will be painting each point of the design, which we have transferred to the plate. We will do it carefully, point by point. Finally we will let dry very well, at least two hours.
Once dry, we passed the baby wipes on the surface, this will help us to erase the original drawing.
If you want the paint to be fixed, we just need to heat the dishes in the oven. We will put it to 300 degrees, during 30 minutes.