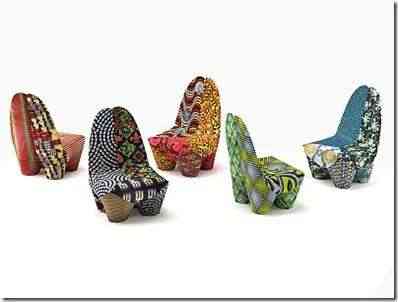 Undoubtedly the eyes of the world are placed in South Africa and not only the football world, due to the upcoming completion of the World Cup in their lands, but we see through it, customs, clothing, food and logically the design ethnic and special that this area of ​​the world so rich possesses.
Thus, the Italian giant of furniture design, surrendered to the magic of the African continent, to reissue some of its classics.
The smells, the flavors and the people, but also the natural landscapes with all the beauty and mystery that they contain, make the particularity of this continent as diverse as the images that are portrayed in the "M'Afrique" collection of the company Italian design Moroso.
All the symbolisms of the African culture that provoke our collective imaginary, are materialized in the warm colors and in the vibrant and garridos patterns that are crossed in these proposals.
From the encounter between tradition and modernity were born these pieces that, on the one hand, pay tribute to local artisans and the know-how of the African culture, increasingly valued in interior design, on the other hand they are proof that the cultural and ethnographic values ​​of the African continent were always a source of inspiration for Western designers.
The evidence is in the new cover given to the well-known chair Shadowy by Torde Boontje or to the new "afro look" of Rod Arad's not-so-famous Do-lo-rez sofa, which is unrecognizable.