La kitchenIt is a place where we spend a lot of time, whether cooking, eating, having a coffee and enjoying a good magazine or book or sharing a chat with someone. This is the reason why it is so important to adapt it not only to think about the functionality and comfort, but also in the aesthetics, it should be a pleasant space and of our liking to the 100%.
El vintage style It is a trend that little by little has made a dent in the interior decoration and its followers are not few.
In the kitchen we can also apply the vintage style, also with a great advantage: Applying the vintage style in the kitchen does not require a complete renovation or a totally radical change, as it can be included little by little and adding certain elements and small details to what we already have. For example: an old showcase, a vintage style tableware, etc.
Another option is to bet on home appliancesof vintage style without giving up the technology of the present.
The design of this type of household appliances is really amazing. Design and colors with retro air not suitable only for those who know what they want and are very clear about their tastes.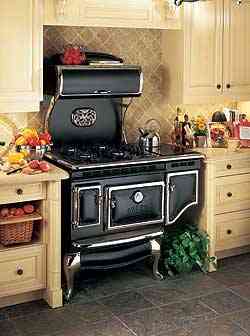 Do not forget the details: the lamp, textiles, the bread basket, the colors ... Absolutely all the details, no matter how small, can contribute and help achieve that vintage style and look that you want to achieve in your kitchen.
And do you like the vintage style? Do you dare to give your kitchen a vintage look?