The carpeting They are a very important element in interior decoration. The carpets are able to provide any space or room of personality and character, to bring warmth and to mark your style also, with its use it is possible to divide environments and even use them as thermal insulation.
At the moment it is possible to find in the market infinity of carpets, with multitude of designs and framed in all kinds of materials ... However, today I want to tell you about the wooden carpets.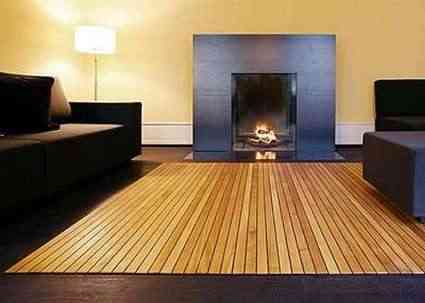 It treats of carpets for interiors made with slats of wood.
This type of rugs, in addition to offering a spectacular result at the aesthetic level, offers a great advantage for a simple and economical maintenance. The only maintenance that requires a wooden carpet is the application of certain products (oils, varnishes, etc) every certain time.
There are many different models and in different shades and colors of wood, so finding a suitable wooden carpet to a specific space does not have to be a problem.
At a decorative level, they can be used exactly like any other type of traditional carpet. Although, the wooden carpets contribute to the room in which they find a warmth difficult to achieve with other types of carpets or materials.
On the other hand, this type of rugs are the perfect alternative for those places where, due to allergies or other health problems of the inhabitants, it is not possible to include carpets made with other materials in the decoration. In this sense, wood carpets, being made with natural materials, do not cause any type of allergy or affect health.
Do you like wood rugs? Would you include them in the decoration of your home?