As soon as you see the images of the carpets, you will understand why I have titled this post different carpets.
It is about the design of carpets as an element that does not have to be square or rectangular (its usual form).
I start by showing you an oval carpet. This one that I show you is in black and white a motif of a bird, but there are lots of designs to look at and each one different.
Well and you tell me that you think this carpet is super original. Its shape in «X» and has a deep red color, although there are more colors to choose yours.
Well and what do you think of this rug, whose shape is not defined ... in white-gray-black.
Well and finally I leave you with more normalita carpet that I loved. It is rectangular and with a deep pink color with a black print of a girl and lips, which is gorgeous.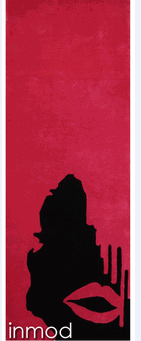 Vía: inmod