The style "clean" that entered and was installed in the decoration of our homes, requires us to think of special accessories to highlight the personality of our spaces and make a difference.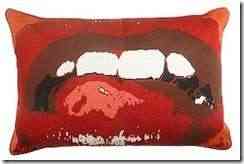 It is for this reason that pillows are being revealed as accessories of maximum importance. The colors and the strong motives that we can print in them make them important allies that we should not underestimate when we think about dressing the spaces of our houses.
The pillows must be faced as explicit messages supports, bringing to the decoration an unmistakable increased value.
The reasons may be varied, more or less organic, more or less realistic, the current trend of interior decoration dictates that pillows serve as a channel of communication of what is intended to be included in the space and reveal to others.
Given this new role, a careful choice of these accessories can and should make a difference in interior decoration.
To all these data, we must add that the flexibility that today is required to space, is a factor that fits perfectly in the spirit of these accessories. Have you already thought that you can easily change your pillow, almost like you change your shirt? Then the possibilities are endless in that sense when it comes to refreshing the decoration.
If one day you find that these accessories do not express your state of mind, then passed the stage and is already at the height of changing pillows and re-customize your space.
The examples we give you show the variety of choices you can make.
Think again, if these accessories are in fact to retransmit everything you feel, there are many of them who already literally say everything about us.