A board where you can hang notes, calendars, images and other elements in a work area; Whether at home or in the office, it is a very practical element.
The truth is that the boards usually always have the same design, a simple design formed by a frame that normally surrounds a cork base. Not bad, although normally they lack grace or charm.
If you are looking for an original board, deferential, a board that can adapt to the decoration of your work corner or the style of your office, this idea is perfect: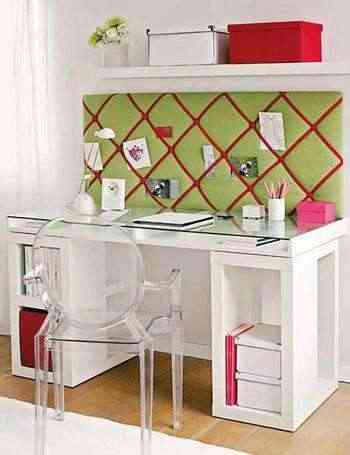 It is an original board made by hand and adapted to the decor.
To make a similar board it is only necessary to have a wooden panel with the desired measurements, fiber for the filling, a fabric that combines with the rest of the decoration and ribbon. It is as simple as placing the fiber on the board and then covering it with the fabric, holding it on the back of the panel with the help of a stapler. Finally form a drawing with the tape and ... Ready!
The result is spectacular and gives the decoration personality and style.
The best thing about this idea is that you can adapt it totally to your decoration, creating a board with the measurements you want or need and using fabrics that adapt to the style and remains of elements of the decoration.
An easy, charming and economical idea ... Get to work and completely change the decoration of your workspace with this original complement.