If at the entrance of your house something is missing and you are looking for original ideas that help you create an original, cozy and charming entry, read on because today I show you an idea that can inspire you ...
The idea is very simple, but it does not lack charm, just the opposite.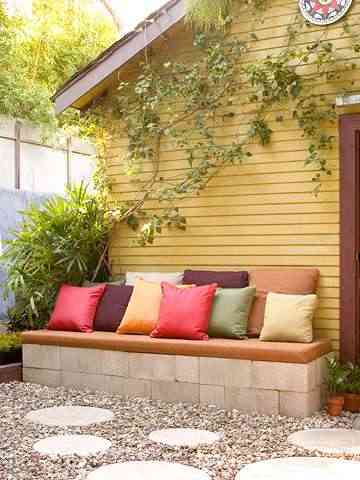 It does not matter if you have a porch or not, it does not matter if you have a garden or not, the only thing you really need is a wall.
You can see it in the image, it's simply create a simple and beautiful bench on the wall of the facade of your house.
If you look at the image above, the bank is made with blocks that, in this case, have not even been coated or painted. The only thing that has been done is to place two blocks on top of each other until the desired height and width for the bank are achieved.
Those responsible for bringing originality, charm and style to this idea are the cushions. Also, of course, to offer greater comfort.
Through the cushions you can define the style you want to give your entrance ... That is something that depends on your own personal tastes.
It is a simple and very economical idea that you can easily implement and even modify and mold it according to your own needs. You can put your bank a back, decorate or paint the blocks or replace them with any other item that offers a similar result, etc.
The best thing about this idea is that, in addition to achieving a much more beautiful entrance, you will also have an ideal outdoor space to enjoy a good coffee, a time of reading, a pleasant company or just a moment of relaxation.
Do you dare to put a bank in your entrance?