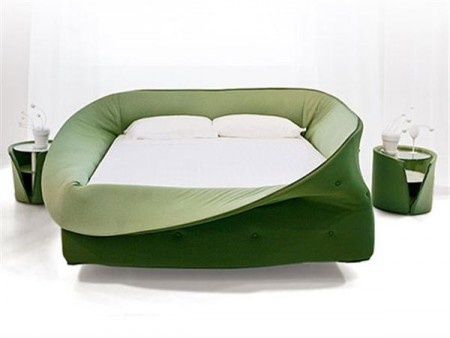 The bed that you can see in the main photographs is what Lake calls a bed ultra modern
At first glance, its particular and original design draws attention. However, it is much more than a nice bed. It is a bed designed for those who live in little houses, since at night it fulfills the function of ample and comfortable bed, while during the day, it can be used sofa or armchair.
The side walls of this bed are what allow, to a certain extent, to vary its functionality. If all the walls are raised, the bed can be used as what it is at first, a comfortable, spacious and cozy bed. However, if you lower the wall on one of its sides and place cushions or cushions on the small opposite wall, the result is a comfortable and practical sofa.
It is undoubtedly an original and minimalist design designed for real homes that have very little space and need really functional furniture that does not force you to renounce comfort.
In addition, thanks to its particular, original and uncommon design, it becomes the focus of visual interest of any decoration. In a room which also works room, combined with some other elements, can be the perfect solution to always maintain order and a pleasant aesthetic.
The ultra modern bed is a signature design Lake and it is available in different colors.
And you, do you like the designs of this bed? Does it seem really functional? Would you include it in your decoration?