Before throwing your furniture you replace them with others, look at them well, observe them and try to see the possibilities they can offer you. Probably with some simple changes, any furniture or decorative complement is able to become a new, functional object with much to offer any decoration.
If you are thinking of renovating your decor, instead of opting for more complex and expensive solutions, why not bet on giving a retro, fun and original touch using the same grinding wheels you have at home?
Below you can see some original ideas and very easy to apply that can inspire you if you want to give your furniture that retro, fun and informal air of which I speak.
Any commode or simple furniture can acquire a new look, a renewed and different aspect by applying a motif, for example, of flowers on the front. This is an idea that you can put into practice using the technique of decoupage.
The result can be this original:
Using the same technique of decoupage can give life to an old chair somewhat outdated or any bank without too much grace. In the following image you can see how original a bank has been after decorating the seat with striped paper.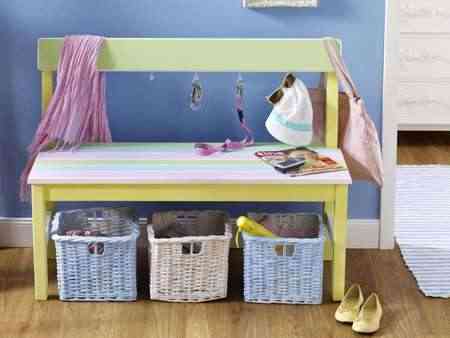 This would be the case if instead of decorating a bench you decorate the drawers of any piece of furniture:
Although, if you prefer a simpler option, you can look for some original sconces and stick them on your furniture. In this way they will acquire a different aspect, much more original, personal and interesting.