On many occasions we have furniture that has been somewhat old and outdated. Restoration is a technique widely used to extend life to pieces that we do not want to get rid of. We can choose to leave them the same function, to which they dedicated themselves or grant them a new function in our home.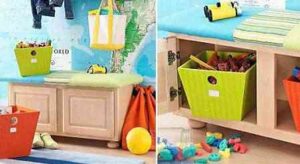 In this way today in Decoration 2.0 We tell you how a beautiful kitchen cupboard has been restored, to transform it into a fantastic and functional piece of furniture for children's bedrooms.
The materials what we will need will be:
4 wooden legs or furniture wheels
A polyphon plate (can be foam rubber)
First we prepare the furniture! Clean it well, pour it and then give a couple of hands of paint. Remember that it is dry to start.
We will do with some legs or wheels for furniture, we will only need some screws or carpenter's glue and some nails.
To make the area above the bench we measure the length and width of the upper area of ​​the closet. Then we cut two rectangles of fabric that we like and with those measurements we also cut a rectangle of polyphon plate. It sews all the contour facing both rights of the fabrics and leaves an opening. We turn the cloth over and introduce the polyphon.
Now just enough to locate a nice cushion. Ywe have this bench furniture to organize our toys and to be able to draw quietly. Remember to choose shades and pastel colors with some patterns in a more vibrant color. We can play with templates or stickers of our son's favorite characters. This furniture will be perfect placing boxes, baskets, vats ... etc. inside, in this way we can use it to store toys.
Via Home Total.