The arrangement of objects in a space of our home is usually possible when it is the task of placing them in an empty room to fulfill kitchen, room or study functions. But when it comes to including a new item in a furnished place, things become more complicated, since the same elements take up space.
In general we have the furniture to design the rooms internally, and this we do frequently. In the end, we redesign the space with the objects very frequently, we give different functions to the subdivided spaces, in a comfortable and simple way. The architectural furniture is the creation of furniture, dynamic, portable, mobile, with the possibility of meeting the spatial needs of an activity.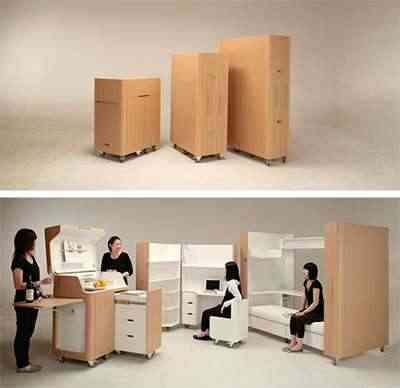 A very good idea of ​​this design trend is the KENCHIKUKAGU mobile furniture series, designed by the Japanese company ATELIER OPA. There are mobile models of a work area, a bedroom and a kitchen. All interior accessories such as chairs, drawers and shelves are packaged with the piece when it is closed. To see the details of the designs and decide to save space - the price per unit is approximately 5000 € - it is best to visit the website http://kenchikukagu.com.