The ability to solve problems is directly proportional to the ability to find options. Not depend on a single response to situations but have first, second and third possibilities ensure that in any way there are solutions although the result is not exactly the same in all cases. Surely we want to have a giant armchair of a Japanese designer, but we can have in mind one of two seats of Finnish design and finally be sure that in our mother's house is available a little old but free and where we can also sit . The object, at the end. It is having a place to rest and have a coffee in the living room.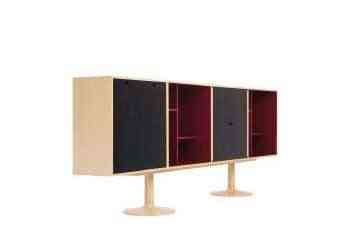 It is lovely to find an object that can be designed by ourselves - or so it seems - according to our spatial and economic needs, and our aesthetic preferences. Being able to define the height, the width, the depth, the finishes, the colors, puts us in the best place of all, in that of the selection. Without having to solve technical or aesthetic problems we make use of a range of possibilities and customize the furnishing.
A classic accessory, designed in 1925 by the French PIERRE JEANNERET for the studio LE CORBUSIER, is the CASIERS STANDARD Cabinet. The piece, which is already part of the great designs of the twentieth century, is built in ash with stained walnut and is also available in black, blue, ocher, green and gray, with solid wood doors. It is a modular container that measures height 75 cm. It has three possibilities of measures for its width, 37.5, 15 and 112, .5 cm, and two for its depth, 37.5 and 75 cm. The doors can be sliding or folding, cabinets can be chosen from three versions: completely closed (with sliding doors, folding, horizontally or vertically and folding folding); open and partially open. They can be equipped with internal shelves, filing cabinets, mirrors and modular subdivisions. The colors, which also vary, are: ocher and black for the outside; and black, blue, ocher, green, gray, red and walnut veneer. The legs can be blue, ocher or black.
More information on the website www.cassina.com