If you want to get the most out of every corner of your home and also achieve warmer and more welcoming environments, I bet on the interior benches.
The indoor benches are a perfect bet almost for any stay: passage areas (halls, corridors, etc.), children's rooms, living room, kitchen, porch ...
With them you can create new rest areas, depending on which models you can acquire plus an extra storage space and also, in your decoration, they will suppose a visual attraction.
If you have a hall or passage area with a few meters and you want to make the most of it by adding a romantic wink to the environment, a delicate white forging bench, like this one, is perfect:
In children's rooms, for example, storage space is an important issue to consider. A bench of this type is perfect for children's rooms, since it also serves as a chest, being able to store in it many toys that just lift the seat will be back at your fingertips.
In a hall, a bench is not only decorative, but also very functional, especially if it also serves as a shoemaker. A perfect example to place in a receiver is the following: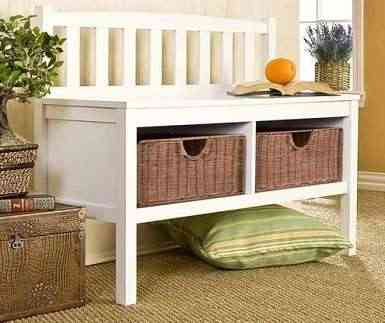 Although it could be perfect also to create a reading area in a wasted space: a corridor, under a window, under the stairs ....
There are all styles, manufactured in all materials, in all colors, in many sizes ... Whatever your home or whatever your space, I'm sure you find a bank that can adapt to what you want and need .
Do you dare to include a bank in decoration?