If we look for Modified spaces and set with different tendencies in search of perfection aesthetics and adequate functionality, el bathroom is one of them, within the tendencies applied in the same one we will be able to find several considerable variables without discarding the minimalism perhaps as the most beautiful expression of all of them.
This trend is about gratify and harmonize the spaces starting from the base that the over dosage ornamental which undermines the aesthetic conception, framed in the trend we can present some relevant ideas in the decoration of Minimalist bathrooms that will surely be to your liking.
As we can appreciate the aesthetic union produced by washbasins, bathtubs and shelves counteracts with the pavement and the seemingly muted coloring of the walls building in this way a space where apparently by chance the light is the protagonist.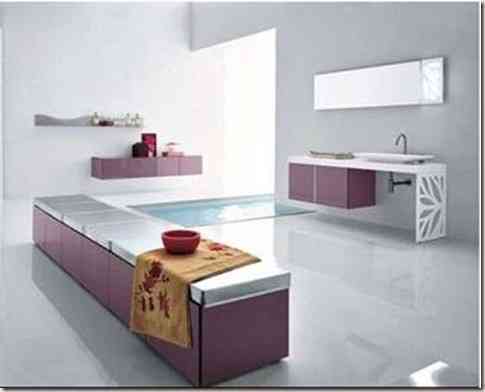 This is another clear example of the interaction of small pieces with the space where colors and pavement create this space where light becomes vitally important, it resizes and purifies, creating a bathroom that in reasonable spaces generates the visual of being really hugeAnother noteworthy feature is the use of this practical cushioned seat ideal for relaxing, massages or personal care, which hides in its interior all the artifacts needed for the bathroom.
The avant-garde bathtubs, the transparencies and of course the warm but not flashy tones are the ideal mechanism for the structuring of minimalist trends in today's bathrooms, on the other hand the toilets are not the exception and bet as well as much of the furniture arranged in this environment to the transparencies as a highlight that conditions its morphology.
Finally it should be noted and perhaps it is a detail that often goes unnoticed, notice how the Implemented mirrors do not use frames or their own luminaire, it is because they can dispose it inside or promote luminosity through leed technology, On the other hand, showers se revolutionize and screaming original destined to the task is modified, creating the sensation that our water really falls from the sky.