Today Amor.net, we give you an idea to make beautiful baskets for Easter, in this way using recycled materials we can give them a new decorative use for these dates.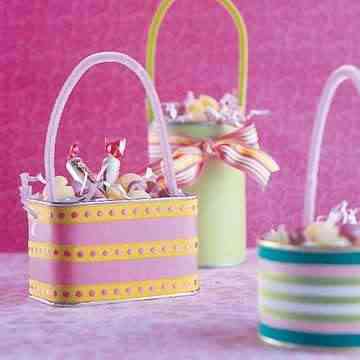 The materials necessary will be:
One or several cans
Glue
Colour cardboard
Pieces of cloth
The first thing we will do is empty the can and clean it very well. Make sure it does not have sharp edges, if so use the file to soften them. The next thing we will do is make the handle of the basket.
for this we cut out a rectangle of at least 4 or 5 cm of cardboard width. We put this cardboard on the sides of the can. Remember that the handle will not have function of this, but it will be a decorative element ... besides the can can be heavy and more if we introduce elements inside.
We take the containers and cover them with cardboard or pieces of cloth, create original motifs with the colors that you like the most. We can also paint them with markers, watercolors or acrylics.
After lining the cans, we can paint them with whatever we want. Add interesting add-ons like glitter or crayons. Count on your children or nephews, they will love this activity.
Finally fill the baskets with sweets, sweets or whatever you like. Find a nice corner and place it on it.