The thematic decoration is fashionable and one of the pieces that lend themselves to more originality and versatility is the bathroom curtain. An object that is not usually too expensive, it is not seen from the beginning and in fact it does not have to be seen and we can change it with total ease. However, we seem not to risk changing them so cheerfully, perhaps because we do not find models that fit the decoration or for fear of exceeding us in the attempt to modernize them.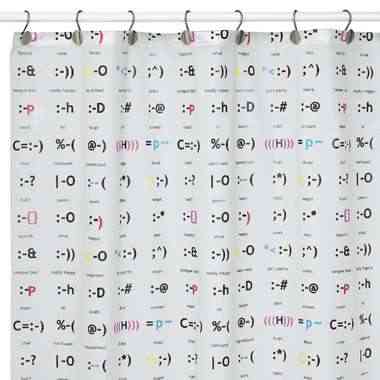 We have already shown you some models that suppose very good options and we have found one more, in this case inspired by the famous emoticons of the instant messaging programs. It is not the drawing itself, but the symbols we use that give shape to curious little faces, so you can dedicate the bathroom to learn and memorize them and then write them to your contacts.
Its official name is Text Talk Vinyl Shower Curtain and is made of eco-friendly fabric. Its measurements are 1,77 and 1,82 m. and can be purchased at a price of almost 15 dollars (almost 11 €).
Further information: Bed Bath & Beyond
Via: trendenciasshopping.com