Dear friends, today we have a centerpiece Very romantic, this time it has been made with an ideal Easter flower for Christmas, but remember that we can do it with the flowers that we like the most.
Create attractive centers for decor of tables and surfaces, original and fun. You can locate them in any corner of your home.
The center that we propose today is very romantic, its delicate smell of cinnamon, thanks to the branches that have been placed, will inject a delicious perfume at home ... if you like this one. A little creativity and art, some easy steps and ready ... a very special centerpiece.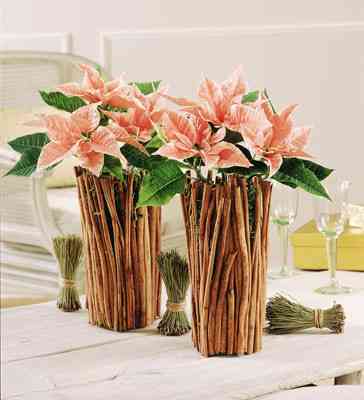 The first thing we have to do is take a few cubes of foam flora for sale in garden stores, it can be dry or wet. In this way we are making the base of the arrangement. We can cut with a cutter what we have and round it. Wrap this sponge with a layer of moss and wire ... this way you will have the best natural coverage.
In the base we place the pot with the flower that we like the most, in this case the poinsettia .. the pot will also be covered with moss.
Everything will depend on the size of the pot, but normally they use 30 cinnamon sticks. The next thing we will do is cut these canes at the height we need and we will stick them one by one on the outside of the foam block ... we do this with hot silicone.
If you want to turn it into a more informal center, place the cinnamon sticks at different heights. Once you have them all, we can introduce the plant. The set should be dry, for this we can place a plastic bag at the base of the plant. Then wrap with a little moss and wire, the bag ... in this way we will prevent the plastic of the bag from shining through the cinnamon.
Finally place the flower you like inside the cinnamon vase and go.