Recycle is wise, and as wise today we will learn to recycle plastic bottles to turn them into splendid decorative flowers. If you want to learn how to do it, read on.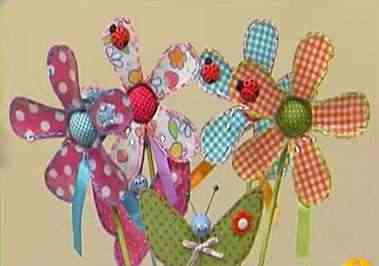 Basically, the materials that we will need are plastic bottles that do not serve us, specific glue, scissors and colorful fabrics and fun patterns. But if you want to make them exactly like the images, in addition to following the video that I will include at the end of this post and get us the indicated materials, we should get a tin soldering iron, small balls of polystyrene or polystyrene, wooden sticks to make skewers and colored ribbons.
To begin we cut the top part of the bottle, that is, the nozzle. With it, we will make cuts from the outside area to the mouth of the bottle. In this way we make the petals that we will only have to fold the part already cut giving them shape. Finally we will round a bit the tip of the petals.
The next step will be to stick the fabric. For this we put a little specific glue on the inner side of the petals and we adhere the colored fabric, once glued we return to pass the glue on it. Finally we cut the excess fabric.
Now let's make the center of the flower. To do this we take the polystyrene ball and cut it in such a way that we cut it in half. We put a little glue and lined with cloth. Once dry it is enough to put the ball in the central area of ​​the flower, where the petals meet.

Then we take the skewer stick, make a small hole in the back of the flower and locate the stick that will make the stem. Then we close with the cap of the bottle and add a small colored ribbon that we like.
We can also add more color to our flower by painting some areas or adding more ribbons. Decorate it in the way you like and it is ready to be located in the area you want. You can make several flowers and put them as a centerpiece for a children's party.
To finish here we leave you a video that explains step by step this craft. It is not found in Spanish, but with the images it is more than enough. If you want to see the video here you have it: