In the articulo today we present you a new proposal Pretty useful to show off our table. This time it's about a original and attractive rotating tray, with a beautiful mosaic.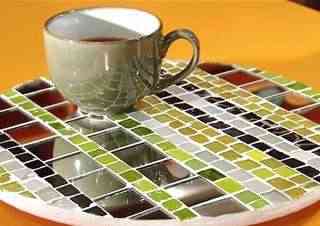 The materials that we will gather will be the following:
1 MDF rotating tray.

Various cuts of colored glasses.

Mirror cutouts.

Cutting for glass.

Separate clamp.

Clip for cutting mosaics.

White synthetic glue.

Spatula.

White board.

Sandpaper No. 100.
The first thing we will do is to arm ourselves with patience, because it is a craft to which we must dedicate care and skill, in this way the final result will be worth it. We started working by cutting strips of colored glass about 2 cm wide. Slide the cutter over the glass from end to end.
Then take the clamp to separate and we will match the mark made in the glass, here we press to separate and then, with the tweezers for mosaics, we segment the strips obtained in small pieces.
Cut, place the pieces in a plastic bottle with lid and filled with water with aren. This will help us to be able to eliminate the cutting edge from the edges. To do this, shake the jar vigorously, so we will obtain this result. Once finished wash and dry each piece well.
Take the tray that rotates and on this mark with the help of a pencil the area or sector where we will place the pieces of mirrors, so we will have a mark to guide us.
The time has come to adhere the mirror squares, this we do with synthetic adhesive. Later, remove the edge of the pieces of these mirrors, for it is enough to pass them gently a sandpaper moistened with water.
When we finish, we begin to stick the pieces of colored glass, this time a linear design has been formed on the sides of the mirrors. If you want to do the same, the procedure must be repeated until you complete the surface of the tray.
You already know that this is just a design that you can use as inspiration, but the activity is very versatile so we can make all kinds of designs and combinations that we want. Let the glue dry well.
If you want to give a touch of final finish, apply white flashing in the spaces between glasses. Let it dry, at least 20 minutes and then remove the remains with a clean cloth. Let it dry and ready! Now you can locate your turntable where you like it most!