The decoration of the room for our baby is very important. This will accompany you through your process of development and growth. Therefore, if we look for ideas for decorating rooms for babies, 2.0 Decoration suggests this beautiful craft.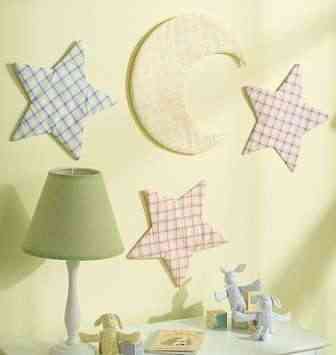 Easy to make and with affordable materials, we will obtain really beautiful finishes to decorate the walls of a children's room. The materials what we will need are the following.
- ½ meter of 4 types, different, of printed fabrics in various colors.
- Polystyrene sheet - foam plast, aislapol or telgopor ... - large and of medium thickness.
- Cutter or Trench.
- Scissors
- Threads.
- Needle
- Pencil.
- Sheets.
- Double-sided adhesive tape.
First we will think about the figures we want to make. You can make the motifs that you like most like animals, flowers, hearts, suns ... or follow the pattern of the craft and make stars and moons.
When we have the desired models we will pass them to the polystyrene sheet; from here we will cut it out by helping with the cutter.
Once the selected figures are cut, we use these pieces - of polystyrene - as molds to transfer the figures to one of the fabrics. Remember to leave at least 2 more cm to be able to sew. We will make two pieces of the same figure, leaving the 2 cm more.
Once the fabric is cut we simply sew both sides with the polystyrene inside. Then we just sew and ready. We already have a piece.
We will make different pieces, with different fabrics. To finish we can add some details for example with relief or glitter paint. We apply a bit on some part of the fabric to enhance the drawing and go.
We can now place the figures where we like, hanging, on the shelf or as you want.