Bricor, the DIY shopping center of El Corte Inglés, about which we spoke to you a while ago, wants to make life easier for its customers in a very simple way: by creating a personal card to save money.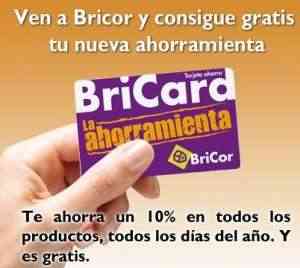 Is called Bricard and may be used in certain promotions that the large platform can carry out. Its use will consist in the accumulation of a balance obtained through the realization of product purchases and presenting said card at the time of payment. The accumulated balance will be 10% on the retail price of the product.
The customer may exchange the entire balance of the card in future purchases of products made, provided that it is present at the time of purchase, as well as use it for future uses that Bricor may launch and that will be duly communicated to users.
The rest of the General Conditions can be contracted in the Customer Service of the Bricor centers, as well as in the web itself: www.bricor.es