Some wooden boxes that are used to expose the fruit in the most select fruit shops. A little paint of colors and a few screws. That's all you'll need to put into practice this colorful DIY project: make a modular shelving to decorate any corner of your house.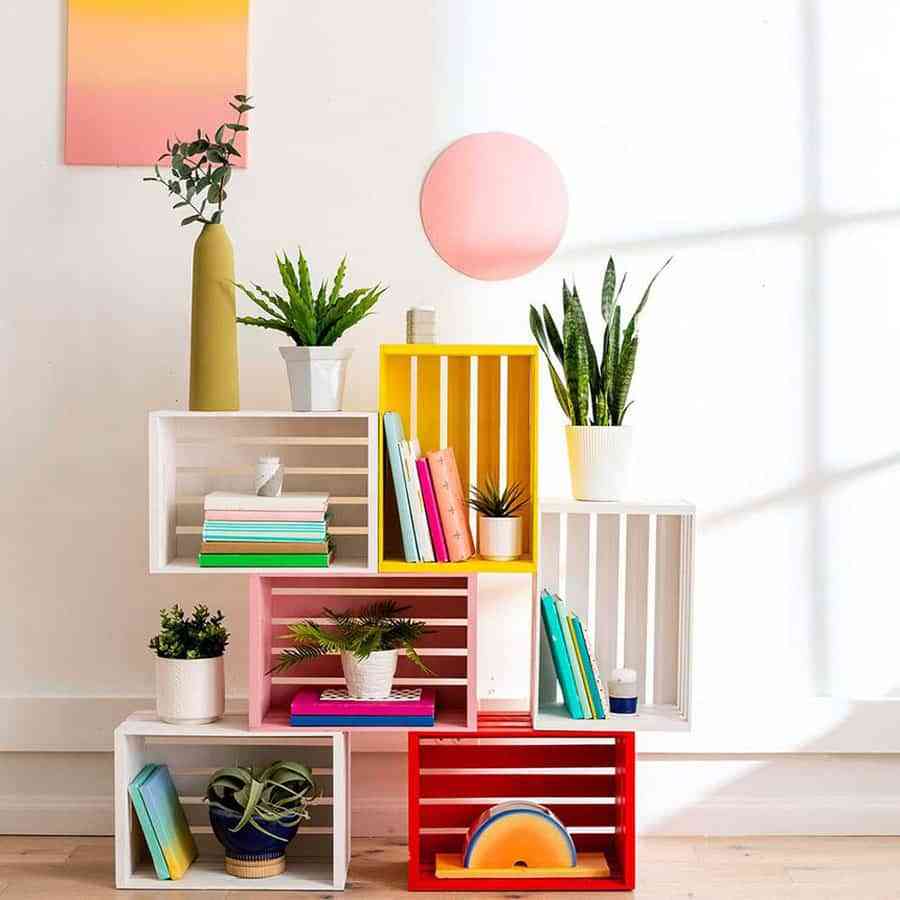 The auxiliary furniture fulfills its function like a charm. They contribute corners to store, fill empty spaces and, when they are as beautiful as the modular shelf that we are going to show you today, they also decorate and put the color note.
This type of projects to do yourself have many advantages. To begin with, they are furniture that they adapt to what you need. To the space you want to furnish. So, this modular shelving built with boxes of fruit can be everything big (or small) that you need.
So you can build the shelf with six boxes like this in the photo that will serve as an example, or with four, with eight or with the ones you want. Of course, the bigger, the more you have to make sure that the boxes are properly secured, to avoid accidents.
A very versatile modular shelving
One of the things I like about this shelving made up of several assembled boxes is that it is very practical in any room of the house. It will serve you for cooking, for study or for the children's room. You just have to decide what colors to use to customize it to your liking, depending on your location inside your house.
It seems to me that the colors that have been chosen for the job can not be more beautiful. The combination is cheerful and fun and, in addition to spark, has elegance. It's fantastic, right?
The simplest materials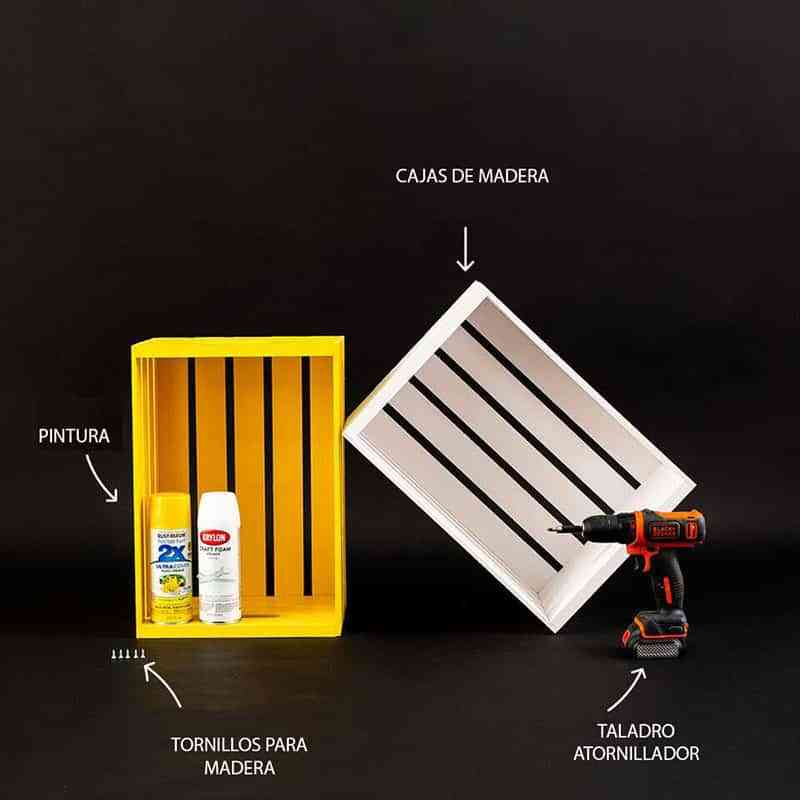 We continue to list the many advantages of DIY work that we explain to you today. One of them is the little investment in materials what you'll have to do to get yourself a similar modular shelf.
To begin with, the ideal thing is that the wooden boxes that you use to make this auxiliary piece of furniture are recovered. That is to say, that they are of truth of those of transporting the fruit. That would be great, because in addition to developing a really decorative idea you would be recycling materials.
However, given the fact that the fruit is currently transported in plastic boxes, you may not find the appropriate ones. Do not worry! Everything has a solution!
And if not, look at these boxes so great that we have seen in Ikea. They are the model Knagglig, and reproduce in detail the appearance of the old fruit boxes. They are not recycled, but they will serve you. Plus. Its price is only 9,99 €. Can you ask for more?
In addition to untreated wooden boxes, you will need spray paint of different colors (in our example we have used red, white, pink and yellow, really spectacular colors). You will also need a matt varnish spray, wood screws and a screwdriver drill. Do you already have everything? Let's do it.
Work, in four easy steps
The first thing you have to do is paint the boxes with the spray paint. If they are old and you are going to recycle them, you will have to previously sanded them thoroughly, until the surface is soft to the touch.
Before painting the boxes, It protects the area and yourself very well. Wear gloves and a mask and protect your clothes and hair. Apply a first coat of paint and let it dry. Go working little by little, with short and quick passes and without letting paint accumulate or forming drips.
After gives a second layer and wait about four hours before continuing with the work. Apply a layer of matt colorless spray varnish to protect the paint.
Painting the boxes is the most laborious part of the project, although as you may have already noticed, it is not a complex task.
Plan the design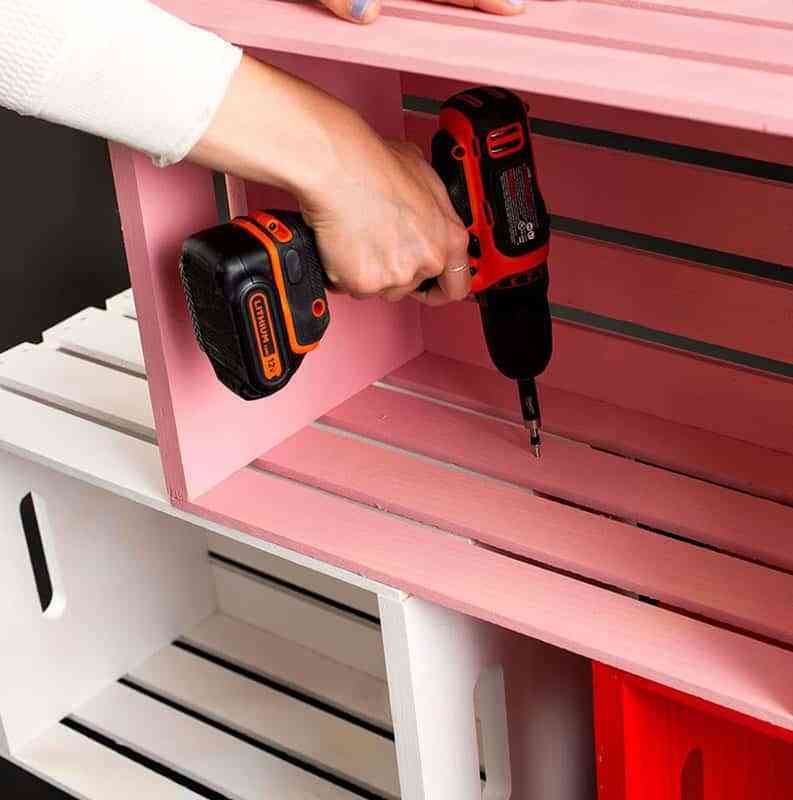 Now that you have painted and ready all the wooden boxes that you are going to use to compose your modular shelving, Make a design on a paper of how you want it to be. This step will be very helpful to know how the furniture should be: higher or lower, wider or narrower, etc.
Once you are clear about the design of the modular shelving, start by compose the lower row of boxes, on which later the rest of rows will be supported. Screw the three boxes together, two down horizontally and one above them.
Check put enough wood screws so that the whole is well secured. Then place the second row and then the third row. Go assembling the boxes, either horizontally or vertically, according to your design.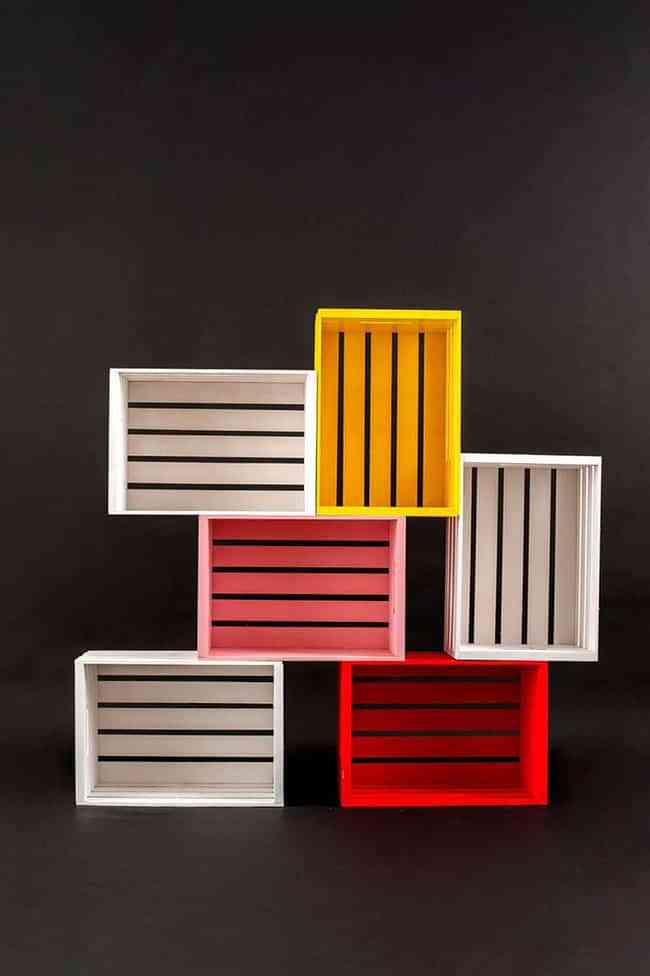 Once you have secured all the boxes with the wood screws, you have your modular shelving ready. Put it in the right place and, if it's too high, Attach it to the wall to avoid accidents. Especially if you have at home some little imp that could try to climb it. Your DIY modular shelving made with boxes of fruit is a work of art!
Photos: Brit + Co.