Many people find it inconvenient to implement healthy eating habits in the dizzying lifestyle that the city imposes. The problems are always price, time and space: price to the extent that eating away from home every day is a deadly income for our pocket, and at least one indigestion per week; time because we need - we can choose between sleeping a few more minutes or waking up to prepare the taper, without counting the need to make food; and space, because serving food, the way we like it, requires a number of dishes, cutlery and utensils that are impossible to carry in the wallet.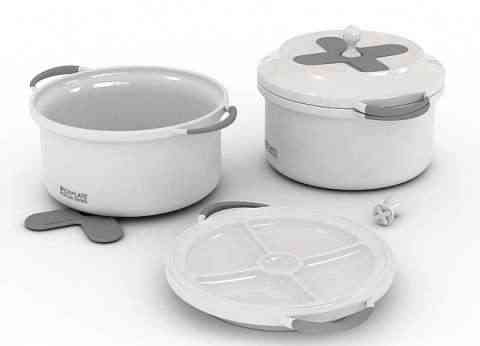 Bearing in mind that there is always a designer trying to find an inconvenience in the life of humans to be able to propose a solution through the creation or modification of objects and spaces, I would put this issue in the hands of some, preferably Japanese, and I would also give him an idea: a saucepan in which, in addition to making the macaroni, I can keep them and take them with me to work. And not only that; I can also use the lid as a plate, and not only that; the lid is a plate of four positions. I said.
Already the Japanese creators JOONGHO CHOY and HYUNSOO CHOI had thought about it, that's why I prefer them from that country. The POTPLATE cooking, carrying and serving food accessory, designed in 2009, is made of aluminum with steel parts, maintains the temperature of the food and can be machine washed.
More information on the website http://www.idealgraphy.com/