Something that we love to do to everyone is to explode packaging bubbles that accompany delicate objects. I do not know what they have but just take a piece, we are hypnotized while we explode the bubbles.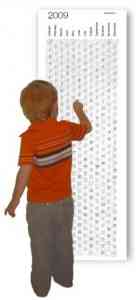 With this calendar we can break them every day of the year but only one a day if we do not load the invention. We can buy it on the Internet through the official website Bubble Calendar and it is available in several models and also in several prices. It has been designed horizontally and vertically and also in paper and plastic. Obviously the paper is cheaper (29,95 Dollars, 25 € approximately).
Fingers prepared, all to explode.
Further information: Bubble Calendar
Via: FayerWayer