From one photograph to the other, the change is more than remarkable. In the first, the white color floods the entire space, with a smooth painting and without just an ornament, although it is possible that they were purposely removed to make the photograph. Still, the change would be spectacular.
The main change is the painting, which goes from nuclear white to gray stripes (light gray and dark). The three walls of the entrance and the fence of the arch that leads to the house are painted in the same way.
On the wall to the right, it has included a small sideboard with a vintage air, a mirror and a small lamp that more than illuminates decorates and gives importance to the dresser (perhaps too close to the ceiling lamp). Next to the sideboard, three hangers complete the wall.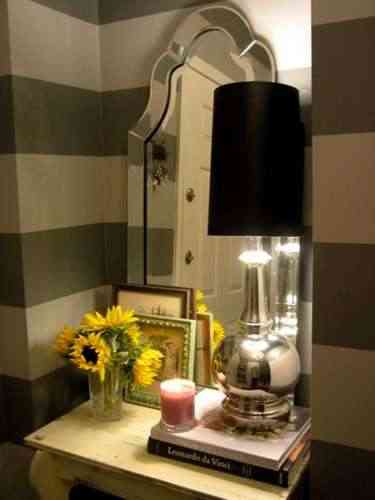 Another of the pieces that most attract attention is the chandelier, restored and painted in red that contrasts with the gray of the walls.
On the left wall black and white paintings complete the decoration, with a discreet umbrella stand and a rug that, to my taste, should be suppressed.
Via: Design Sponge