The education of children, worries at work, the multiple tasks of the home, are several of the factors that can affect our stress levels increase and with it the feeling of despondency and fatigue. Nothing better to find new energies than to reinvent our home: to give it, with a little imagination, a new air to the spaces we inhabit on a daily basis. Nothing more revitalizing than feeling ourselves inhabitants of a new environment; one more beautiful and better disposed.
A small lighting project is a simple task with which we will achieve a space reborn. Choose a beautiful floor lamp that matches our room in the day -which strengthens the style we have chosen for our decoration or strongly contrast it-, and that at night illuminates gently and creates a collecting atmosphere, is the best option to achieve the change. In addition to being simple its installation and the investment of money as varied as the budget allows.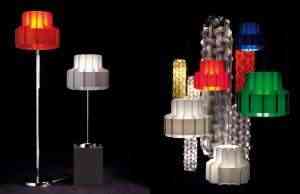 An excellent option to create this new environment is the lamp BAND, from Spanish designers Lujan & Sicily, that with a simple and retro design, combined with an impeccable invoice in light and modern materials -such as propylene and chromed steel-, manages to capture the attention immediately, converting it into a useful object of decoration in the living room and in a fountain of warm and soothing light. The exquisite lamp, which has versions in white, yellow, orange, red, blue and green, can be seen in the showroom of the store Lujan & Sicily, located in the ORELLANA 12 STREET in MADRID, or in the Web page www.lujan-sicilia.com. Other beautiful designs such as suspension lamp PAISTE They generate in our imagination a thousand ideas to renew the domestic environment and create that small change that we always need.