The Brazilian design studio Baita Design has created an original and fun furniture that is a desk and at the same time a piece of furniture to store toys and objects that can serve you in your day to day.
It can be a simple table with a cylinder shape when it is closed, in which to support the players, notebooks, pencils, etc ... but it is also a desk that appears when you move one of the sides.
From the part that until then was hidden comes a storage drawer and a seat, and all of them are colorful and fun shapes. It is recommended for children over 8 years.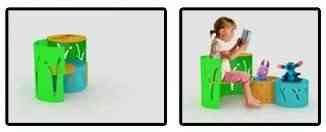 More information: Baita Design